By Paul Willis
For CNN

BERLIN, Germany (CNN) -- Paul van Dyk was 18 at the time of the fall of the Berlin Wall.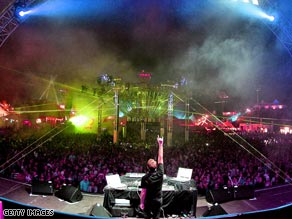 Van Dyk is now one of the most famous DJs around, playing gigs across the world to packed venues.
On a world stage, the momentous events of autumn of 1989 signalled the beginning of the end of the Soviet Union and the Cold War.
For van Dyk the moment was no less significant.
Growing up in communist East Berlin he was obsessed with music from the west: defying the authorities he and his friends listened to radio stations broadcasting from the other side of the Wall. His grandmother even smuggled back records from the west for him.
Creating mixes from radio recordings, the fledgling DJ played them to scores of friends at illegal parties in basements in the east of the city.
"We recorded the music from the radio and then played it at our parties. It was nothing like what we got in the clubs," says van Dyk in an interview with his Web site. "I was fascinated by (the UK bands) The Smiths and New Order -- they were a huge influence on me."
When the Wall came down he saw his world turned on its head. A new found sense of optimism coupled with an abundance of empty warehouses and buildings in East Berlin fuelled a massive party scene in the city.
My City_My Life
Each month CNN visits the world's coolest cities with the celebrities who know them best.

After one of van Dyk's tape mixes was passed on by a friend to a promoter, the ambitious teenager got his first Djing gig in 1990, and the rest is history.
Nearly two decades on, van Dyk is one of the best known DJs and producers in the world.
Famous for pioneering the dance music sub-genre Trance in the early '90s, his high-energy live sets at major dance festivals twice led him to be voted the world's top DJ by DJ Magazine. He has remixed hits by superstar bands like U2 and released his fifth studio album, 'In Between' last year with collaborations from David Byrne from Talking Heads among others.
Though it was as a Trance DJ that he made his name, his recent work has been far more varied, and he prefers not to be typecast.
"I don't make trance music. I don't like it when people try and force music into categories," he told the Web site. "I make electronic music -- that is my language."
When he took up a residency at the English city of Sheffield's Gatecrasher nightclub in the late '90s, van Dyk took the unusual step for a top-name DJ of declaring himself vehemently anti-drugs.
In a dance music culture where drug taking was not only widespread but where much of the music seemed created to complement the drug experience, this was a bold move. His stance led to the printing of T-shirts with the message "No E, Pure PvD" on them -- a reference to his initials and the dance music drug Ecstasy, frequently known as 'E.'
"Nobody needs drugs to get into music. I think people mostly take them out of insecurity," van Dyk told the British newspaper The Guardian in an interview in 2005. This kind of freethinking is not just confined to the German DJ's attitude to drugs.
Van Dyk has spoken out against the U.S.-led invasion of Iraq and has become involved in a number of children's charities following an emotional visit to the Indian city of Mumbai in 2002 where he was struck by the appalling poverty he witnessed.
"What I saw driving through the streets was just really devastating," he told Billboard magazine. "In our so-called civilized world we adjust ourselves to the fact that some people have more, some have less. But somehow, even if it's not always fair, it's still kind of balanced in a way.
"But this was completely out of any balance."
The experience led him to become involved with a number of charities, including the Akanksha children's project in India, Amnesty International and UNICEF.
He manages to juggle these commitments with a fiercely punishing work schedule -- by the time he plays at Cream nightclub's closing event in Ibiza in late September he will have played 71 gigs in 2008 at venues as far apart as Puerto Rico and Japan.
How does the 37-year-old cope with this intense workload? Partly, he admits to possessing a streak of Germanic discipline, but you also get the impression van Dyk is a man on a mission -- to spread understanding through his music.
"The most important thing to me is the music," he tells his Web site. "I want to transport people into another world, for a brief moment, when they lose themselves in the music and really feel it. I would like to inspire them."
E-mail to a friend