(CNN) -- Although not famed for its home-grown cuisine, there's some excellent dining to be had in Berlin. Alongside the more traditional French restaurants, such as the superb Margaux (Unter den Linden 78), there is also a huge variety of quality ethnic food, including Turkish, Ethiopian and Moroccan eateries.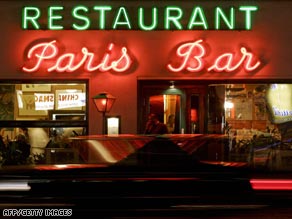 Paris Bar has long been a haunt favored by artists and celebrities.
For German cuisine with a nouvelle twist try Schneeweiss (Simplonstrasse 16). Its modern and refreshingly light dishes attract a youthful and discerning crowd.
To combine wonderful food with outstanding wine, look no further than First Floor, Hotel Palace (Budapester Strasse 45), where Gunnar Tietz is an award-winning sommelier.
If you fancy a night of celebrity spotting, Paris Bar (Kantstrasse 152) is a French bistro popular with artists and actors, who are lured in by its excellent steaks and delectable cocktails.
To simultaneously satisfy your hunger pangs and cultural cravings visit Café Einstein (Kurfürstenstrasse 58), a traditional Viennese-style coffee house that serves up lunch, dinner and literary readings -- as well as Berlin's best apple strudel, drenched in vanilla sauce.
Vegetarians shouldn't miss Samadhi Restaurant (Wilhelmstrasse 77). It may appear a little drab, but the food is anything but. The south-east Asian, and entirely vegetarian menu features spicy tofu dishes and some fiery curries. Yellow Submarine (Wiener Strasse 19) serves organic diner-style food that includes hearty vegetarian burgers and a bunch of vegan options.
For those who don't have the time to sit down and eat, Berlin offers a good line in some peculiarly German fast food, available at "imbisse" (street-food outlets) of varying quality. Currywurst is essentially a sausage slathered in a mixture of ketchup and curry, which tastes much better than it looks. Other wursts include the flavorsome bratwurst and the chubby bockwurst, both usually served with sweet or hot mustard.
Local lore has it that the global phenomenon that is the doner kebab, or gyro, originated in the Turkish neighborhood of Kreuzburg. True or not, you'll find this combination of meat, salad and pitta bread sold all over the city.
...............

Berlin city guide:
Where to stay | What to see | Where to be seen | Where to eat | Where to shop
E-mail to a friend