(CNN) -- Berlin is famous for its raucous nightlife, but its sweaty techno temples and grungy dives have been joined in recent years by a swathe of swanky bars. The fashionable Mitte district has a number of classy options, and the huge windows at Newton Bar (Charlottenstrasse 57) offer the opportunity to see as well as be seen. When you get tired of people watching, move on to the dressy, stylish Greenwich (Gipsstrasse 5). Ultra cool, with walls of illuminated fish tanks, this bar caters to a chic but laid back clientele.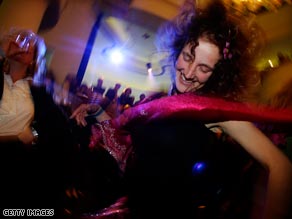 Berlin lives up to its reputation as a 24-hour party city.
Nothing could be further from the grimy nightspots of Berlin's past than Bangaluu (Invalidenstrasse 30). With a pristine, minimalist interior (think white pillows and seats made for nonchalant lounging), Bangaluu offers fine dining followed by full-on partying -- as well as a rooftop garden if you feel the need to escape all the decadence.
If you fancy somewhere a little quieter, hidden behind a green door on Winterfeldstrasse is a cute little establishment called Green Door. With its long bar and quirky décor, it's a fine choice for a champagne cocktail
For something completely different, try Bar jeder Vernunft (Schaperstrasse 15). Reviving Berlin's wicked burlesque heyday, this is the place to experience caberet and chanson in the sensational Mirror Tent, which itself dates back to 1920s.
Jazz aficionados would do well to make their way to Charlottenburg, where the A-Trane offers top-quality live music in an atmospheric setting. If you prefer your music to have a pounding four-to-the-floor beat then head to the cavernous Berghain in Friedrichshain, where techno-heads party with hedonistic abandon.
............

Berlin city guide:
Where to stay | What to see | Where to be seen | Where to eat | Where to shop
E-mail to a friend