(CNN) -- While it might not be as famous for its fashion as Milan or Paris, Berlin is at the forefront of edgy, ultra-hip design. A specialty is temporary 'Guerrilla' fashion boutiques that spring up in the trendiest shopping areas, sell über-cool threads for a few months, and then disappear without a trace. Discovering these hidden treasures is a reward in itself.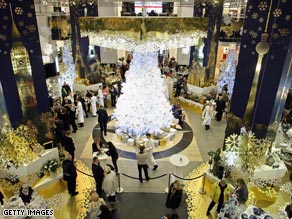 KaDeWe is big enough to satisfy the most voracious shopping appetites.
The biggest collection of shops is around the swish Kürfurstendamm, also known as the Kü'damm. It has a mind-boggling mix of exclusive stores and KaDeWe in Tauentzienstrasse, the largest department store in continental Europe, will keep your credit cards busy for a while.
If your taste in fashion tends towards the Gallic, Galeries Lafayette (Friedrichstrasse 76 -- 78) offers elegant French design, perfumes, shoes and accessories. It also offers fine French food and drink in its basement.
But what makes Berlin distinctive are the quirky independent stores that specialize in high fashion and urban chic. The shops themselves come and go but the most interesting boutiques can be found in the boho neighborhoods of Mitte, Prenzlauer Berg and Friedrichshain. For exclusive, understated jewelry try Eva Niemand's eponymous shop (Knaackstrasse 45), while Swedish designer Filippa Knutsson specializes in elegant, dashing attire at her Filippa K store (Alte Schönhauser Strasse 11).
It would be a shame to leave Berlin without investigating the phenomenon of Ostalgie -- nostalgia for life in the old East Germany. The Kunst und Nostalgiemarkt which takes place at weekends on Museumsinsel is a great place to pick up kitschy relics from the GDR. Weekends also see the city's biggest flea market take over Strasse des 17 Juni, just west of the Tiergarten park.
............

Berlin city guide:
Where to stay | What to see | Where to be seen | Where to eat | Where to shop
E-mail to a friend