(CNN) -- The German capital is a big place and its penchant for re-invention means it's easy to miss out on the 'real' Berlin. Here's the lowdown on life in the city.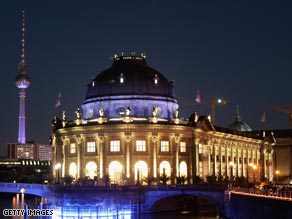 The Bode is just one of the museums offering free entry on Thursday evenings.
Full steam ahead
When Berliners want to unwind they head to the city's public saunas. Entire families and groups of friends will relax in a steam room, at a cost of between €5 and €15 a head.
Correct etiquette is to shower before entering the sauna or plunge pool; the prudish should be aware that the attire of choice for locals is -- their birthday suits!
In with the 'in crowd'
If you don't want to miss out on the evening's hottest entertainment check out English-language magazine Exberliner, for film, art, concert and club listings. It's available at newsstands across the city.
Bargain culture
Berlin is home to some world-class museums, especially those on Museuminsel, but if you don't want to pay the admission the state museums offer free entry on Thursday evenings from 6pm to 10pm (although there is usually a charge for any special exhibitions).
My City_My Life
Each month CNN visits the world's coolest cities with the celebrities who know them best.


For true culture vultures there's a three-day museum pass available for €19 that gives you access to all state museums for three consecutive days. Many, but not all, museums are closed on Mondays.
Albino asparagus
Germans are crazy for white asparagus ("spargelzeit") and Berlin is reputed to sell some of the best, plucked from the surrounding Brandenburg countryside. The somewhat anemic-looking white asparagus is grown without being exposed to sunlight and gourmets claim its flavor is superior to that of its green cousin.
Spring is the time to sample this delicacy, when it appears in markets throughout the city and shows up in restaurants in a number of guises -- in soups, main courses and even desserts.

Cycle the city
Although Berlin's public transport system is excellent, you'll see more if you explore the city by bike. There are plenty of dedicated bike lanes and the "Call a bike" scheme has bike pick-up points scattered throughout Berlin. Register online or by phone and when you reach a pick-up point phone "Call a bike" to receive a code to unlock one.
The road less traveled
To get a taste of the 'real' Berlin, don't limit yourself to tourist hotspots like the Brandenburg Gate and the Reichstag building. Be sure to take a stroll around up-and-coming neighborhoods like Friedrichshain, Prenzlauer Berg and Kreuzberg.
E-mail to a friend