LONDON, England (CNN) -- Off the back of CNN's Going Green week, this month Business Traveller will focus on the environment and travelling with a conscience.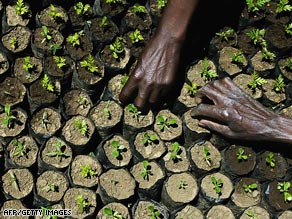 Tree planting is one of the favorite ways to carbon offset. How much can we believe in it?
Depending on who you believe, a ton of carbon dioxide is emitted when you fly two thousand miles or just under, if you drive. We're also told that one tree can absorb more than a ton of carbon dioxide over a period of roughly 99 years.
So if we plant a tree or two then technically, we won't have to feel guilty about getting on that plane. It's called carbon offsetting.
These days you can do more than plant trees. If you want to offset your carbon emissions, you can pay companies who will take your contribution and invest it in environmentally friendly projects around the world -- wind farms, methane capture farms, environmentally friendly light bulb schemes, hydropower projects, the list goes on and on. But where does our money actually go and are we really helping the environment?
With so much skepticism about this unregulated market, we explore if carbon offsetting is off kilter.
CNN's Adrian Finighan will follow his offset all the way to an environmental project in The Netherlands, the home of carbon offsetting - from where we'll also be presenting the show.
We also visit the Princess Amalia Wind Farm, the largest offshore wind farm in the world, run by energy company Eneco and we get to grips with The Global Peatland Fund run by Wetlands International - a viable environmental project that cuts out the intermediary carbon offsetting companies. We take a look at the good, the bad and ugly in carbon offsetting, with the help of Kevin Smith, author of "The Carbon Neutral Myth."
Aviation has been criticized for its contribution to global carbon emissions with calls for a carbon tax and being included in the Kyoto Protocol and the EU Emissions Trading Scheme.
The industry has a three-pronged attack on climate change with the development of fuel-efficient aircraft, working toward better air traffic control systems and biofuels. CNN Business Traveller speaks to the Director-General of IATA, Giovanni Bisignani.
Record fuel prices are strong industry incentive to reduce fuel burn and related emissions and Bisignani believes that the "tunnel-vision on emissions trading is no solution at all. Airlines are working hard to reduce their 2 percent share of global carbon emissions. Europe is fixated on punitive measures. Unilaterally bringing aviation into the European Emissions Trading Scheme (ETS) seeks to limit mobility and adds $6 billion to the cost of travel. But reducing emissions is more effective than charging for them.''
We also speak to the CEO of Lufthansa Wolfgang Mayrhuber, the CEO of Air New Zealand - Rob Fyfe and CEO of Ryanair Michael O'Leary. We also speak to Billy Glover, managing director of Environmental Strategy, Boeing Commercial Airplanes about the launch of a global alliance the Algae Biomass Organisation -- the collaborative effort on research and development on algae -- tipped to be the most viable alternative to jet fuel.
Emissions of course are not just about flights but also includes vehicles. CNN's Alphonso van Marsh reports from London on eco-friendly cars and the emissions targets, the EU is calling for a "substantial" phasing-in period for proposed limits and some leeway on fines for automakers who miss the limits.
.....................
Next show airs: July 12, 13, 17 (all times are GMT)
Saturday: 0730 (All Regions) 1330 (All Regions) 1830 (All Regions) (830 PM ET Latin America only)
Sunday: 1130 (All Regions) 1730 (All Regions)
Thursday: 1330 (All Regions) 1730 (All Regions)
E-mail to a friend

All About Kyoto Protocol