By Robert Johnson
CNN
NOTASULGA, Alabama (CNN) -- Like millions of African-Americans who fled the South for economic and social freedom, my parents were part of that great migration.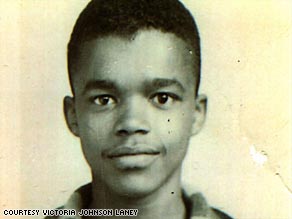 The author's father, John E. Johnson, pictured in 1948 at age 16, grew up near Alabama's Tuskegee Institute.
Graduates of Tuskegee Institute, they left the South and settled in Syracuse, New York. I reversed that trend and recently moved from New York to Georgia. An hour south of Atlanta on I-85 is my late father's hometown of Notasulga, Alabama.
My dad, John E. Johnson, told tall tales that made the small town nestled in the "Black Belt" of Alabama, a region known for its rich cotton-growing black soil, magical and larger than life.
Always proud of the fact that no one knew where Notasulga was, my dad would laugh and say it's "Indian for 'not-a-soul-there.'"

See my photos of the trip to Notasulga »
These tall tales led me on a recent road trip with my wife and teenage son to share my family's history, which has been intertwined with this small country town for more than 100 years.
Every four years while I lived with my parents, we would return to Notasulga for a family reunion, where we would pay homage to the place where it all started.
But my wife and child had never made the journey.
As I drive my family six miles down a narrow country road toward the center of town, we cross bridges and side roads of bright red clay.
I remember that my dad thumbed his way to the nearby Tuskegee Institute to attend college classes on this very road, sometimes in the back of a farmer's truck.
When he was with his younger sister, he said, he was forced to be more picky about his rides.
We arrive on Tuskegee Street. To the right is a closed road where a bridge that spans the railroad tracks is being replaced. The bridge has been out since my last visit in the late 1980s.
The town is dotted with a salvage yard, restaurant, barbershop, post office, hardware store and a few other shops. It is refreshing to see locally owned businesses instead of the big-box retail stores that have replaced the local character of so many small towns.
About 6 p.m. the town is virtually shut down. I approach a police officer who's eating a beef stew dinner directly from a Winn-Dixie can; I ask if he knows one of my second cousins, Nadine Grimmett Starks. He doesn't.
With my wife's encouragement, I stop at the first house at the end of Lyons Street in the middle of town. Friendly faces beckon and waves welcome from the screened porch of the small white house.
I ask one of them, an older woman, if she knows Nadine. "Yes, that's my sister," she says. With a big smile I reply, "Well, then we must be cousins." Indeed, she is another second cousin, Erelene Grimmett Thompson, who I vaguely remember from past reunions. We hug to mark our unexpected meeting.
My great-grandfather bought the house in the late 1800s. The famous slave-turned-agricultural-scientist George Washington Carver would visit my great-grandfather at his farm, according to family stories. How ironic that I arrived at the house accidentally.
Erelene arranges for Nadine, a spunky senior, to escort me on a tour of Notasulga.
We head to what the family calls "The Home House," a property that was passed down from my grandmother's family.
My first visit to The Home House was in 1978 as a 6-year-old. My parents, my sister and I were all sitting in a living room at Great-Aunt Emmie Turk Gaines' house, catching up on old times. I noticed a revolver on the coffee table, and before I knew it, I was waving the loaded gun around the room.
While everyone dropped to the floor, I remember thinking that the gun didn't feel like toy guns I had played with in the past.
"Put the gun down!" everyone screamed.
But my Great-Aunt Emmie calmly took the weapon from my shaking hands saying, "Give that here, Sugar."
Recalling these memories during my return to the property, night falls as we pass several shacks and abandoned houses. "The hell if I would live way back here," says Nadine.
We travel down another red clay road remembering how my dad and I would pass along this same narrow path during our past visits.
We arrive at a clearing surrounding a small brick house. Another second cousin, Jimmy Harris, who lives on the family-owned property, is working on his cars.
"If you want your land, get a bucket and come and get it," he often jokes to family members.
Jimmy shows me the three houses on the property where various family members and my grandparents once lived. Only a window and a patch of worn paint are visible through the thick kudzu. Because the property is deeded to my entire family, anyone who is willing to brave the back woods and pay the taxes can live there.
The house came to my family after my late Great-Aunt Emmie and her husband bought it with settlement money they received from the U.S. government as compensation for my Great-Uncle "Lott" Percy Gaines' involvement in the infamous Tuskegee syphilis experiment that took place from the 1930s to 1972. Great-Uncle Lott was patient No. 188, according the records at the National Archives.
He was a subject in a secret government-sponsored experiment that allowed African-American men with the deadly disease to remain untreated for years, although a cure did exist.
The federal government paid out millions to victims and their families.
Next, we visit Notasulga High School, a formerly whites-only school where my grandfather worked as a janitor. He raised his family in a shack at the back of the school property. My grandparents catered events at the school, which hosted all of the town's whites-only civic events.
While my father lived on the grounds of Notasulga High School, he, his three brothers and two sisters had to travel several miles to get an education at the formerly blacks-only Tuskegee Institute High School.
Known for a strong work ethic, and since my family lived at the all-white school, they enjoyed privileges that most local blacks did not. Jim Crow laws, which enforced strict segregation of blacks and whites, were sometimes relaxed for them.
Shopkeepers extended credit to my grandfather at the local grocery store, and my aunts and uncles often watched plays and movies at the Notasulga High School auditorium, albeit in the back.
My dad and my Aunt Victoria Laney told stories about local white people who secretly lent them money to attend university classes at Tuskegee Institute.
Nadine then takes us to a nearby cemetery where half of the grounds appear well-kept. She points to the cemetery's other side, which has modest and worn headstones.
"That is the colored side," she exclaims. This fact drives home what it was really like to live and die in segregation.
The visit prompts my son Malcolm to say it makes him feel sentimental "to see where my grandfather grew up -- a place that my grandfather shared so many stories about." And my wife, Colleen, says that "seeing where my father-in-law walked as a little boy was a great experience."
At the end of his life, my father struggled with Alzheimer's disease. Mentally he lived in the past, and the only way to reach him was to talk about the past.
The past that was so vivid to him, the one he remembered, was his life in Notasulga helping his janitor father -- not the successful upholstery business in Syracuse that my father built and ran for more than 40 years.
My father died in 2006.
Returning to Notasulga allowed me to reflect on my dad's life and marvel at the achievements of a man who was born in a small town in the segregated South.
Even though he faced difficulties and challenges, my father passed on to me a sense that I could do anything. He really was a tremendously positive man.
E-mail to a friend