By Marina Koestler Ruben and Adam Ruben
Special to CNN
Editor's note: The authors, who live in Silver Spring, Maryland, sent their road trip photos and videos to iReport.com. Here is their story.
CHICAGO, Illinois (CNN) -- Knowing we would attend a wedding in St. Louis, Missouri, one weekend and a bridal shower in Chicago, Illinois, the next, the two of us decided to turn the events into an excuse for a summer road trip through Illinois and parts of neighboring states from June 28 to July 4.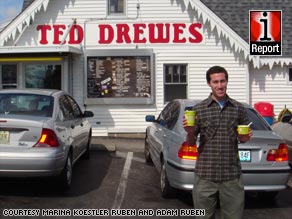 Adam Ruben, shown here in St. Louis, explored the Midwest with his wife Marina Koestler Ruben.
Sure, we had heard the Midwest buzzwords: Ethanol. Cheddar cheese. Barack Obama. But what else, we wondered, made the heartland of America tick?
The land of costumed interpreters
The license plates aren't kidding -- Illinois really is "The Land of Lincoln." The capital, Springfield, is the site of the only national park in Illinois, the Lincoln Home National Historic Site, where Abe lived with his wife and children before becoming president.
We wished we'd had time to see the Abraham Lincoln Presidential Library and Museum, which uses interactive exhibits and Holavision technology to create what one innkeeper described as "a U.S. attraction second only to Disney World."

See map of our trip »
Near Lerna, Illinois, we drove half an hour out of our way to see the Lincoln Log Cabin. Turns out it was the home of Thomas Lincoln, Abe's father. Perhaps not surprisingly, "Thomas" doesn't appear on the directional signs. There, and later at Lincoln's New Salem, about 20 miles northwest of Springfield, we learned all about our 16th president. We also learned that we both find historical re-creationists and costumed interpreters unnerving. (Why do they try so hard to point out visitors' anachronisms? And what verb tense do you use with them?)
Other historical sites
• Maeystown, Illinois: A crossroads consisting of an 1884-saloon-turned-B&B, ice cream parlor (open mostly "by chance or appointment"), and a local bar comprises the commercial district of this tiny town, which was settled by German immigrants. We ate a family-style Sunday chicken dinner, then strolled past the creek, old church and pleasant local residences and gardens.
• Galena, Illinois: Part of Galena's charm is that it's a picturesque, hilly town in a land of flat farms and fields. From Ulysses S. Grant's house, we overlooked the town, then walked down toward Grant Park, across the Galena River and railroad tracks, and into a charming downtown filled with confectionaries and antique shops.
• Bishop Hill, Illinois: This historic town was founded in 1846 by the Janssonists, a group of Swedish religious dissenters. We toured the restored Colony Hotel and the Colony Church, where both architecture and furnishings reflected the group's belief in simplicity, kind of like a 19th century IKEA. Hopefully the Janssonists brought hex wrenches.
Free outdoor fun
Many of the best attractions didn't cost a penny. We saw the hilly remains of a Native American civilization at Cahokia Mounds State Historic Site, near Collinsville, Illinois; the canyon trails and waterfalls of Starved Rock State Park, near Utica, Illinois; and the paths that surround Madison's Lake Mendota, part of which borders the University of Wisconsin-Madison.

See tips on road trip camping »
Coming from Washington, D.C., we thought only zoos that were funded by Congress (and sold oodles of baby panda paraphernalia) could afford to offer free admission. But it turns out entrance to the St. Louis Zoo is also complimentary. Besides its own requisite baby, an adorable Asian elephant, the zoo featured a butterfly house, South American penguins, hippos that swim inches from visitors, and a prairie dog habitat (think Animal Planet's "Meerkat Manor" but with stouter critters).
Route 66 and other roadside oddities
We visited a St. Louis Historic Route 66 stop, Ted Drewes Frozen Custard, to savor a famously thick apple pie "concrete;" and, in Springfield, watched a movie from our car at the Route 66 Drive-In and sampled the loose-meat burgers and root beer floats at Maid-Rite, the nation's first drive-through (opened in 1926 and, judging from the smell, perhaps last disinfected in 1926).
St. Louis to Chicago
How far: About 1,000 miles

Gas cost: $135

How long: 7 days
Then there was the House on the Rock, the epitome of all roadside attractions. Alex Jordan opened his Spring Green, Wisconsin, home to the public in 1961, and apparently he just kept using his tourism revenue to build additional rooms and fill them with interesting things. We toured a dimly lit, warehouse-sized collection of oddities and saw the world's largest carousel, an assortment of self-playing instruments, and a multistory larger-than-life replica of a whale eating a boat while fighting a squid.
Just outside of St. Louis is Collinsville, Illinois, home of The World's Largest Catsup Bottle, which we found to be the World's Largest Waste of Time. It's a water tower shaped like a catsup bottle, and that's about it. We never did find out who actually says "catsup" instead of "ketchup." (Is it a Midwest thing? Like "pop" instead of "soda"?)
But nothing beat Kewanee, Illinois, where we saw otters lounging in a bank -- yes, "in" a bank, not "on" a bank.

Watch a video of the otters »

We traveled to Union Federal Savings & Loan, which built an indoor otter habitat in 1991 -- since then Oscar and Andy have been a source of great interest (perhaps in both senses of the word) as they've swum in tandem in their rectangular pool, right in the lobby. Oh, and just when we thought they couldn't get any cuter, one otter got the hiccups. We almost took out a home loan on the spot.
E-mail to a friend