(CNN) -- The Danish capital is a year-round destination. Here are some of the city's best annual events.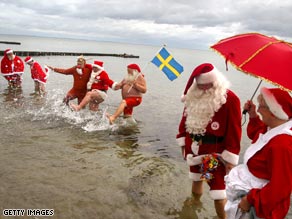 The Father Christmas Festival attracts Santas from all over the world.
Roskilde Festival (July)
The Danes love the outdoors and they love rock music; the Roskilde Festival is where they combine these passions for a weekend of drunken revelry.
The four-day event is held about 30 minutes from the city proper, which means you can either go in for the full festival experience -- smelly toilets and all -- by pitching a tent alongside 70,000 other party monsters, or you can fake it by staying in the city and commuting to the festival each day.
There are also day tickets if you don't have the stamina for the whole shebang.
Kulturnatten (October)
For something a little more high brow there's the Night of Culture. For one night only some 300 venues in the city stage theater performances, art exhibitions, concerts and poetry readings.
My City_My Life
Each month CNN visits the world's coolest cities with the celebrities who know them best.


Copenhagen Jazz Festival (July)
A world away from the mud and moshing of Roskilde, the city's largest festival consists of more than 450 performances, many of them free, covering everything from hard bop to fusion. Goatees are optional.
Copenhagen Summerdance (August)
Each August some of the finest dance companies and choreographers in Scandinavia perform al fresco in the courtyard of the stately Copenhagen Police Headquarters. Dance enthusiasts should also try to catch the annual free outdoor performance given by the Royal Danish Ballet at the Kastellet fortification.
Don't Miss
Father Christmas Congress (July)
One of the more bizarre fixtures in Copenhagen's calendar, the event is held in July -- presumably the slow season for Santas -- at the Bakken amusement park, some 20 minutes north of the city. The climax of the event is a procession of Santas from all over the world along Strøget, accompanied by their ever-faithful Christmas elves. Parents should be prepared for some awkward questions from the kids.
Tivoli Gardens (November/December)
These pleasure gardens make for a great day out any time of the year but to see them at their most bewitching, visit from mid-November through December, when they are transformed into a fairy tale of lanterns and Christmas markets. There's also outdoor skating, a Christmas cabaret and the very Danish 'Nissekøbing' village, home to more than 100 mechanical pixies. Hans Christian Andersen would have approved.

..................................
What sights have you enjoyed in Copenhagen? Send us your tips and suggestions in the "Sound Off" box below and we'll print the best.
E-mail to a friend