(CNN) -- In London you can sample food from anywhere in the world. The city boasts excellent eateries serving everything from Ethiopian to Peruvian cuisine, but right now traditional British food is having something of a revival, showcasing the best seasonal ingredients the isles have to offer.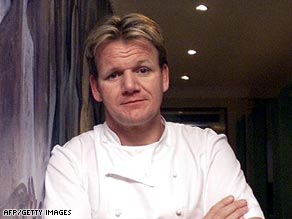 Gordon Ramsay runs top-notch gastropub The Narrow.
St John (26 St John Street, Smithfield) specializes in the kind of bizarrely named cuts of meat your grandparents knew and loved. The ever-changing menu has included chitterlings and dandelion greens, pigeon and trotter pie, and roast bone marrow and parsley salad. If the unusual menu were just a gimmick the novelty would soon wear off; instead, this is superb British cooking, re-imagined for the 21st century. A revelation.
Run by a former St John chef, Hereford Road (3 Hereford Road, Bayswater) is an unfussy, unassuming eating space. The food may also sound unassuming (think British classics like potted crab, pheasant or oxtail) but it is assured, imaginative and consistently excellent.
The Narrow (44 Narrow Street, Limehouse), Gordon Ramsay's first attempt at a gastropub, is located in an airy converted boathouse on the banks of the Thames. Although you can pop in for a quick beer it's the food that's the real draw -- classic British fare prepared with an immaculately light touch.
If The Narrow is the champagne of gastropubs The Eagle (159 Farringdon Road, Farringdon) is the traditionally brewed real ale. Known as the birthplace of the gastropub, it has well-worn sofas and a welcoming real-pub feel, while the open-fronted kitchen turns out superior Mediterranean and Modern European cuisine.
Any vegetarians put off by all the meat on offer at St John will love Manna (4 Erskine Rd, Primrose Hill). Mains include a mushroom, spinach and cumin torte served with yellow capsicum and lemon sauce and the dessert menu promises such treats as a summer berries filo tostadina served with a rose coulis and tequila-toffee sauce. How could you resist ....
Another excellent vegetarian option is The Gate (51 Queen Caroline Street, Hammersmith). Tucked away above a church in a quiet courtyard, it's the kind of place where carnivores are happy to forego eating meat -- well worth seeking out.
Perfect for a quick pit stop, Busaba Eathai is a mini-chain of bustling canteen style Thai restaurants from the man behind the Wagamama chain. With restaurants in Wardour Street, Bird Street and Store Street, Busaba offers an interesting menu and reliably tasty food. The Wardour Street branch gets very busy at the weekend, with a long, snaking queue outside.
Londoners have a special place in their hearts for curry, whether it be Indian, Sri Lankan or Bangladeshi. Brick Lane used to be the place to go for a real curry, and it is still possible to find good, authentic Indian food among the tikka masalas, but a better bet is to head west to Wembley, where you'll find some great Gujarati restaurants. Southall too has reputation as a quality curry hot spot, while in south London, Tooting boasts some fine south Indian restaurants.
Spencer Tracey once said "I don't want to go to heaven, I want to go to Claridge's," and that's exactly where you should go for a quintessentially English afternoon tea (30 Old Burlington Street, Mayfair). You'll be serenaded by a classical musical ensemble while you nibble daintily on a selection of sandwiches and teacakes. It's pricey, but perfect.
If the sun is out you can do no better than taking a picnic to one of the city's many parks. Stock up on provisions at the fantastic Borough Market near London Bridge, or at the healthy, but pricey, Whole Foods Market store in Kensington. And pack an umbrella, just in case ...
......................
London city guide:
Where to stay | What to see | Where to be seen | Where to eat | Where to shop

......................
Do you agree with our London picks? Send us your comments and suggestions in the "Sound Off" box below and we'll print the best.
E-mail to a friend