(CNN) -- Accommodation in London is extortionate, with a dearth of decent budget options. But once you've resigned yourself to paying top dollar, you'll find there is no shortage of quality hotels.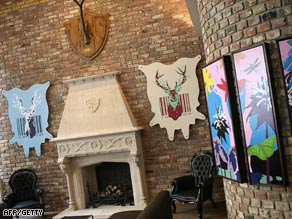 The Hoxton Hotel is one of the few hotels in London that represent a real bargain.
Among the very best is One Aldwych (1 Aldwych, just off the Strand), a stylish, modern gem in the heart of the city. The elegant Edwardian building was created by the designers of the Ritz and there are plenty of luxury features inside, from mini TVs in the bathrooms to a fantastic indoor pool, gym and steam room.
There's more effortless style at the Charlotte Street Hotel (15-17 Charlotte Street, North Soho), part of the Firmdale chain of boutique hotels. Behind the graceful exterior are 52 bedrooms that boast classic English furnishings yet manage to look colorful and contemporary.
Offering a similar level of class and quality are other Firmdale offerings Haymarket Hotel (1 Suffolk Place, Haymarket), Covent Garden Hotel (10 Monmouth Street) and Soho Hotel (4 Richmond Mews). Soho Hotel is the hippest of a hip bunch and is a good bet for celeb spotting.
The Conran-designed myhotel bloomsbury (11-13 Bayley Street, Bloomsbury) is the perfect sanctuary from the bustle of the city. Designed according to feng-shui principles, the calming oriental influence in the minimalist rooms extends to the scented candles in the lobby, the "jinja" treatment room and the wonderfully relaxing library. There is another myhotel in Chelsea.
The Rockwell (181 Cromwell Road) is an independently owned hotel in the heart of Kensington. The interior is all about understatement and attention to detail and the prices are very reasonable, given the location. However, the bathrooms don't offer much room for maneuver.
Models and rock stars are drawn to the unrestrained opulence of The Portobello Hotel (22 Stanley Gardens, Notting Hill). It's the perfect place to mingle with the glitterati and act like a spoilt celebrity.
Although it would hardly qualify as a budget hotel in any other city, Kensington's Base2Stay (25 Courtfield Gardens) does offer quality and comfort at a relatively affordable price. Its trendy apartment-style rooms have very basic kitchenettes, which mean you can save money by eating in.
Brought to you by the brains behind Pret a Manger The Hoxton Hotel (81 Great Eastern Street, Hoxton) is a genuine bargain. While the exterior and lobby promise little, the rooms are small and perfectly formed, with flat screen TVs, fluffy duvets, and fresh milk in the fridge. There's also free internet and a free Pret Lite breakfast of juice, fruit and yogurt.
......................
London city guide:
Where to stay | What to see | Where to be seen | Where to eat | Where to shop

......................
Do you agree with our London picks? Send us your comments and suggestions in the "Sound Off" box below and we'll print the best.
E-mail to a friend