(CNN) -- Patricia Neal is a 29-year-old American living in London. She documents her experiences in her blog "London a la Mode" and here she writes for CNN about life in the English capital.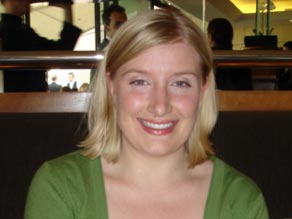 Patricia is an American living in London. She calls it a "culturally vibrant city."
"I moved to London in 2004 after my fiancé, now husband, was transferred from New York back to London with his job. I went to business school in London and starting working in the City in 2005. Moving to London was meant to be a one-year stint abroad, but four years later, we still call London home.
I started my blog as a way to keep me focused on getting out and exploring the city. London has so much to offer, from the famed landmarks to outdoor markets, quaint restaurants and stylish boutiques.
It is important to me to make the most of my time in London, so when I am not working I am looking for new shops, exploring new neighborhoods and planning weekend excursions.
My City_My Life
Each month CNN visits the world's coolest cities with the celebrities who know them best.


London is a culturally vibrant city, where charm, history and tradition collide with cutting-edge fashion, music, films and food. Despite a recorded history that dates back over 2,000 years, the city is has a youthful vibe and is constantly changing and re-inventing itself.
More than anything, London is a diverse city of contradictions between old and new. St. Paul's Cathedral and Big Ben, two of London's oldest and most well known landmarks, are now juxtaposed against The Gherkin, the newest landmark in the city skyline.
I love that you can spend the morning at the Tower of London exploring medieval London, walk in the foot steps of Charles Dickens in the afternoon and launch into the 21st century with a ride on the London Eye in the evening.
Londoners take life seriously, but not too seriously. Work is important but it isn't everything. It is not uncommon for co-workers to meet for a pint of beer in a pub after work and on warm, sunny days, the crowds spill out onto the pavement and into the streets.
Weekends are spent exploring the city and relaxing with family and friends. On Fridays and Saturday mornings, food lovers can indulge in an array of culinary delights as they shop and eat their way through Borough Market. If that's not enough, there are specialty food shops and superb restaurants dotted all over the city.
As a major destination for theatre lovers, and with over 240 museums in London, art, history and culture lovers are spoiled for choice. Club goers can party into the early hours of the morning in the West End and Shoreditch clubs, while outdoor enthusiasts seek refuge on Hampstead Heath, cycle around Richmond Park, stroll along the Thames or take advantage of London's many parks.
London does have its pitfalls; living in London is expensive, it can take a long time to get around and the weather is often less than desirable. The London Underground makes getting around easier and it is possible to enjoy London on even the tightest of budgets.
Many museums, including the Tate Modern and British Museum, do not charge an entry fee and cash-strapped locals and visitors can also enjoy the street theatre in Covent Garden or lunch time concerts at St. Martins-in-the-Fields for free."
..................................
Do you agree with Patricia? Send us your comments in the "Sound Off" box below and we'll print the best
E-mail to a friend