(CNN) -- There's a never a dull moment in London -- the only problem is trying to keep up with it all... Here are some annual events you won't want to miss.
The Boat Race (March or April)
Every year teams of eight rowers from Oxford University and Cambridge University battle it out in a six-and-a-half km race along the Thames. Around a quarter of a million people line the banks of the river from the start line at Putney Bridge to the finish at Mortlake, to watch what has become a national institution.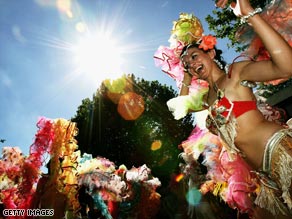 There's music, dancing and exotic costumes at the Notting Hill Carnival.
Chelsea Flower Show (May)
If an Englishman's home is his castle then his garden is his kingdom. The British are slightly obsessed with their gardens and this event elevates horticulture to high culture, with show gardens becoming works of art.
The flower show attracts some 160,000 visitors each year to the grounds of the Royal Hospital in Chelsea, with displays that range from outlandish flights of floral fancy to more practical efforts that you can recreate in your own garden.
Notting Hill Carnival (August Bank Holiday)
Taking the stereotype of British reserve and dancing on its grave, while wearing a feather boa, the Notting Hill Carnival is a wild weekend of music, dancing and heaving crowds. Now more than 40 years old, this celebration of London's Caribbean community is said to be Europe's largest street festival. All the ingredients of a good street party are present in abundance: steel drums, sound systems, colorful floats, exotic costumes and spicy, spicy food.
My City_My Life
Each month CNN visits the world's coolest cities with the celebrities who know them best.


The Proms (July - September)
Classical music aficionados shouldn't miss the eight-week summer season of daily performances officially known as the Henry Wood Promenade Concerts. Prestigious venues such as the Royal Albert Hall and Cadogan Hall host more than 70 main concerts and various other events.
A feature of the Proms is bargain "Promming tickets" for performances at the Royal Albert Hall, which allow spectators to stand directly in front of the orchestra or high up in the gallery. 1,400 of these tickets are available for each performance and 500 of those can be bought on the day for only £5 each. On the last night of the season the Proms go to Hyde Park for an al fresco finale.
Trooping the Colour (June)
This centuries-old tradition shows the pomp and ceremony of the British monarchy in its full splendor The parade is in honor of the Queen's official birthday and is held at Horse Guards Parade, with spectators lining the route along the Mall. There are rousing brass bands, foot guards and cavalry in full regalia, and lashings of splendid pageantry as the Queen performs her annual inspection of her troops.
Music festivals
London hosts a number of music festivals that have become highlights of the events calendar, among them Meltdown, which is held over nine days at venues including the Royal Festival Hall and the Southbank Centre. Each year the festival has a different "celebratory curator", which have in the past included the likes of David Bowie, Morrissey, Nick Cave and Massive Attack, ensuring a diverse range of cutting-edge performers.
The O2 Wireless Festival is held in Hyde Park and features an array of mainstream and alternative artists. Taking place in June or July it's a great way to sample a music festival atmosphere without having to leave the city.
Get Loaded in the Park is a one-day event on Clapham Common, which is also the venue for the South West Four one-day dance music extravaganza, and Lovebox is an annual festival that has yet to find a fixed address.

..................................
What events have you enjoyed in London? Send us your tips and suggestions in the "Sound Off" box below and we'll print the best.
E-mail to a friend