(CNN) -- The perfect place to exercise your credit card, London has a number of world-class department stores. It's worth enduring the crowds to visit Harrods (87-135 Brompton Road, Knightsbridge), a name synonymous with luxury. The prices can be hair raising but the ornate food halls are a great place to pick up a Harrods-branded souvenir.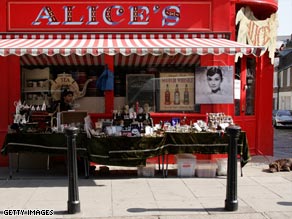 Portobello Road has a sprawling market and some charming shops.
Fortnum & Mason (181 Piccadilly) has been trading for more than 300 years and has a food hall that specializes in sumptuous hampers, while Liberty (at the junction of Regent Street and Great Marlborough Street) is all about elegance.
Harvey Nichols flagship store (109 - 125 Knightsbridge) offers eight floors of shopping extravagance -- make like Londoners and call it Harvey Nicks, (dahling optional!) Selfridges (400 Oxford Street) will lure you in with its eye-catching window displays and keep you there with its five cafés, four restaurants, two bars and countless food hall eateries.
Of London's famous shopping streets Oxford Street is incredibly busy and rather disappointing, with plenty of flagship chain stores but little that you can't find elsewhere. Regent Street is much the same, but be sure to check out Hamleys (188 - 196 Regent Street), a six-floor, toy-filled children's wonderland. Head to High Street Kensington for a similar, yet, less harassed shopping experience.
Bond Street is decidedly upmarket, with exclusive jewelers, designer clothes stores and auction houses, including Sotheby's. Carnaby Street may not have the same cachet as it had in its swinging sixties heyday, but it has had something of a revival in recent years and now boasts plenty of trendy names such as Storm, Diesel and American Apparel. Nearby Covent Garden is also worth checking out, especially around Neal Street.
For the hippest fashions, head east to Hoxton, where the terminally trendy gather. Check out the gallery-like Hoxton Boutique (2 Hoxton Street), stocking MM6, Hussein Chalayan and its own Hobo label. For a fashion flashback head to Beyond Retro (110 Cheshire Street), which also has a store in Soho (58 Great Marlborough Street).
Those with more traditional tastes may prefer Notting Hill, where Westbourne Grove in particular has a number of elegant boutiques. And if you're looking for designer homeware you won't want to miss Paul Smith's Mayfair store (9 Albemarle Street) or Mint (70 Wigmore Street, Marylebone).
For an authentic London shopping experience, head to one of the city's many markets. As well as smaller daily markets, Notting Hill's Portobello Road hosts a sprawling Saturday market that sells everything from antiques to colorful spices and equally colorful street fashion.
Borough Market (off Southwark Street, by London Bridge underground) is loved by locals and tourists alike. On Thursdays, Fridays and Saturdays it is crammed with a United Nations array of stallholders, including French cheese makers, Italian olive oil producers and Belgian beer importers. But be warned: it is incredibly popular and the crowds on a Saturday are almost unbearable.
Camden Market may have lost some of its edge in recent years, with its alternative fashion diluted by a fair amount of tourist tat, but it still draws big crowds at weekends.
Camden Lock has some interesting boutiques and crafts stalls and neighboring Stables Market has more than 400 shops and stalls selling everything from vintage clothes to funky furniture.
Hackney's Columbia Road Flower Market takes place on Sunday mornings and is a sure-fire mood lifter. Bursting with color and sweetly perfumed, it's as good for browsing as it is for shopping. When you're done with the market, check out the enticing boutiques and galleries that line the road.
......................
London city guide:
Where to stay | What to see | Where to be seen | Where to eat | Where to shop

......................
Do you agree with our London picks? Send us your comments and suggestions in the "Sound Off" box below and we'll print the best.
E-mail to a friend