By Mark Tutton
For CNN






LONDON, England (CNN) -- In December 2000 Guy Ritchie married an American pop singer by the name of Madonna Ciccone, and in doing so became one of the world's most talked about movie directors.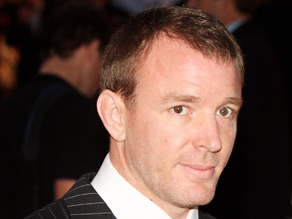 Director Guy Ritchie is a Londoner whose crime movies portray the city's criminal underworld.
As soon as he began dating Madonna he became the subject of tabloid gossip and the prey of voracious paparazzi more interested in his love life than his movies. But by that time Ritchie had already made a name for himself as the man who had breathed life back into the British crime movie.
Born in Hatfield in Hertfordshire, England, in 1968, and brought up in south London, Ritchie's dyslexia meant he was unsettled at school, leaving education at the age of 15.
He worked in menial jobs until he was 25, when a school friend who was directing commercials took on Ritchie as a runner. Ritchie went on to make commercials and pop videos, before directing the 1995 short film "The Hard Case".
His first full-length film "Lock, Stock and Two Smoking Barrels" exploded onto the big screen in 1998. A convoluted crime caper about four cockney "geezers" getting involved with London gangsters, it was brash, stylish, violent and funny.
Tapping into the "Cool Britannia" zeitgeist of the time it gave British cinema a much-needed jolt, showing that British films could be slick and entertaining, not just worthy dramas or lavish period pieces. It also showcased Ritchie's talent as a screenwriter, spawned a spin-off television series in the UK, and inspired a string of laddish, copycat Brit-gangster flicks.
My City_My Life
Each month CNN visits the world's coolest cities with the celebrities who know them best.


The movie did well in Britain and had enough of an impact in the United States to enable Ritchie to cast Brad Pitt and Benicio del Toro in 2000's follow up, "Snatch." Similar in style and subject matter to "Lock, Stock..." it was another darkly comic film about London gangsters, proving his debut was no fluke and confirming Ritchie's fascination with the city he grew up in.
Both "Lock, Stock ..." and "Snatch" portrayed the seedy glamour of a hidden London of wheeler-dealers and old-fashioned gangsters. Ritchie says of the city, "You've got every single culture and ethnicity from every part of the world. It's the juxtaposition between the rough side of life and the smooth side of life that you can find within a stone's throw, from one street to another."
If "Snatch" raised his global profile, it was nothing compared to what would happen after he met the future Mrs Ritchie at a dinner party in 1998. The tabloid frenzy began long before their son, Rocco, was born in August 2000 and Ritchie and Madonna went to great lengths to keep the press away from their wedding at Skibo Castle in Scotland. In addition to Madonna's daughter Lourdes, from a previous marriage, the pair added to their family by adopting a Malawian boy, David Banda, in 2006.
Ritchie directed the video for Madonna's "What it Feels Like for a Girl" and cast her in the lead role in 2002's "Swept Away", a remake of a 1974 Italian film of the same name. In the movie Madonna played a rich-bitch socialite who is stranded on a desert island with a communist sailor, who sets about humiliating her, before the pair fall in love.
It was savaged by the critics and proved a commercial flop, but Ritchie has said it was always intended to be a low-profile, low-budget movie -- adding that he learned that nothing involving Madonna could be low profile.
Dividing their time between London and their newly acquired country manor, Ritchie and Madonna became involved in Kabbalah, a mystical branch of Judaism, which was an influence in Ritchie's 2005 movie "Revolver." Starring Jason Statham, an English actor who also appeared in "Lock, Stock ..." and "Snatch," it was a complex tale involving gangsters and con games. As visually arresting as his early films, "Revolver" added some difficult philosophical themes and in doing so divided critics.
His latest offering, "RocknRolla," is a return to type and is seen by many as a return to form. Another violent, comic crime caper about London gangsters, "RocknRolla" also manages to comment on the changing face of modern London, weaving in a story of Russian businessmen getting their hands dirty in the London property market.
Ritchie has said that he loves making crime movies because they allow him to tell any kind of story within the framework of the genre, and with "RocknRolla" he explores how London has changed over the last 20 years. He says the movie deals with the way crime has become corporate and multinational and the impact that has had on London's old-school gangsters and the landscape of the city itself.

Ritchie told CNN, "People seem to make films similar to my kind of films in New York, but they don't seem to in London. My expression of London is illustrated in what I find to be pertinent within the culture at that time, so I try to put that in my films, and no one else seems to be doing that."
As well keeping himself busy running his pub, the Punchbowl, in London's Mayfair, Ritchie has written a sequel to "RocknRolla" and has begun work on a Sherlock Holmes movie. Set to star Robert Downey Jr. as an all-action version of the celebrated sleuth, Ritchie is promising to bring his trademark in-your-face directorial style and intense action sequences to the project. While the image of Sherlock Holmes as action hero might seem a little strange, the idea has all the hallmarks of a classic Ritchie movie -- violence and crime in the city of London.
E-mail to a friend