By Mark Tutton
For CNN






LONDON, England (CNN) -- Guy Ritchie re-invented the British gangster movie with his stylish crime capers "Lock, Stock and Two Smoking Barrels" and "Snatch."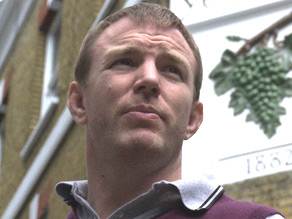 Director Guy Ritchie has re-invented the British gangster movie.
His new movie, "RocknRolla," sees Ritchie revisit London's underworld, exploring the way international crime is changing the landscape of the city.
CNN caught up with Ritchie and fellow Londoner "RocknRolla" actor Mark Strong at Ritchie's Mayfair pub, The Punchbowl.
CNN: Have you always lived in London?
Guy Ritchie: I'm 39 years old now. I've spent probably three or four years living out of England itself, and I spent six months living in the country, but other than that I've always lived in London.
Mark Strong: It's funny, because whenever I go on holiday and then come back, I feel I've got to get out of London. But when you're in it, it's really hard to get out of it, because it's so big and because everything happens here.
I also like the anonymity of London, I like being able to wander around and everyone's getting on with their own business. The minute you go and live in a little country village, you can't go and buy a pint of milk without everyone knowing your business.
Guy Ritchie: I feel exactly the opposite. I feel everyone knows your business in London and in the country very few people know your business, or your business has no currency within their lives. I think it depends in exactly what environment you live.
I have a philosophy: you should live right in the center of London or right in the middle of the countryside, and I don't like getting caught in between the two. I don't understand what the suburbs are all about; they're neither fish nor fowl to me. When I'm here, yeah, I want to be up to my eyeballs in major urban central action.
My City_My Life
Each month CNN visits the world's coolest cities with the celebrities who know them best.


Mark Strong: Every time I come back to London I feel like I've never done it. I can never do the whole of London -- all the galleries and that. I feel like being a Londoner is a life's work -- getting to know the place.
Guy Ritchie: It's impossible to calculate the vastness of London. I always felt I was too subjective about London: I've just spent too many years here, so I've never been able to stand back and look at it. But since I married an American, I prefer London because I live vicariously through a tourist's eyes. Ever since I've been looking through a tourist's eyes the city's come alive to me.
Before I had too many ghosts here, there were too many things I was caught up with that just told me everything about my past. And now I don't have that; now I can step into London and look at it objectively and see it for the richness that it has historically.
Mark Strong: Why are all your films set in London? Do you think you look at all your films through a tourist's eyes?
Guy Ritchie: I like London: people seem to make films more similar to my kind of films in New York, but they don't seem to in London. I've tried to reflect what I've deemed to be important or narratives that have equity within the period of time that I've made stories about London.
CNN: What do you like and dislike about London?
Guy Ritchie: It's a city that's been evolving for 2,000 years. You've got every single culture, ethnicity, from every part of the world. It's the juxtaposition between the rough side of life and the smooth side of life that you can find within a stone's throw, from one street to another.
Everything is condensed into such a melting pot, although London itself is so vast. I don't know how many people live here now -- seven or eight million -- but essentially all the layers and all the fabric of English society and English culture is what I find very inspirational and essentially rich about the culture of London.
CNN: Why did you decide to become a film director?
Guy Ritchie: It was the first thing I wanted to do at school. After that, it didn't seem like it was possible to become a film director: how does one become a film director?
But at the age of 25 I had no other skills -- professional skills, anyway. Then a school-friend of mine had become a commercials director, so I managed to creep in under his wake. I was his runner, his gofer essentially, for a year or so. From there I managed to get into the world of film.
CNN: How have specific areas of London influenced you as a film director?
Guy Ritchie: I spent the majority of my adult life around central London, within maybe three miles of this area, so it's informed all the different stages of my life -- of having money and not having money, of being young, of not being so young. So everything about this area has informed me and informed my films, because it's just so rich.
CNN: What does the future hold for you? What's your next project?
Guy Ritchie: I suppose now I sort of see this as the beginning of my career. I know what kind of films I'd like to make from now on.
I'm interested in London and reflecting what takes place in the zeitgeist of London, but the next movie I'm going to make is about Sherlock Holmes. It's [set] 120 years ago in almost the same spots of London that I'm interested in now.

CNN: Will you always make films about London?
Guy Ritchie: I'll continue to make films about London, I imagine, but not just about London. I'll continue to make films about anything that I find titillating in some way.
E-mail to a friend