(CNN) -- Last year, the Michelin guide's first foray into Tokyo left the city with some 190 Michelin stars, compared with 95 in Paris and 50 in London and New York. Of course, that's partly down to the sheer number of eateries in Tokyo -- estimated at more than 180,000 establishments -- but it's also testimony to the reverence Tokyoites have for fresh ingredients prepared with the utmost care.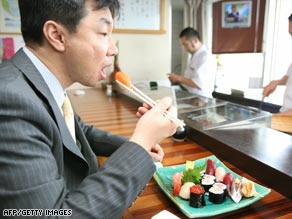 You shouldn't leave Tokyo without sampling the fantastic sushi.
Tokyo's restaurants will usually serve a single type of food, be it sushi, "yakitori" (grilled chicken or vegetable skewers) or noodles, and you'll find a bewildering range of options for each variety. To make matters more complicated, many of the best restaurants are hidden inside anonymous office blocks or a marked only by a tiny sign, usually in Japanese characters.
You'll naturally want to sample the local sushi, and you'll find none better than at the unassuming Sukiyabashi Jiro (Residence B, Keyakizaka Dori, Roppongi Hills, 6-12-2 Roppongi, Minato-ku), a tiny basement eatery worthy of each of its three Michelin stars.
For unbeatable sushi, and an unforgettable experience, set your alarm clock for an early-morning trip to Tsukiji fish market. Every day from 5 a.m. fishermen auction their fresh catch to a rowdy horde of restaurateurs, eager to secure the choicest specimens for their menus.
Treat yourself to a breakfast of just-caught fish at one of the many sushi stalls and restaurants at the market. Daiwa Sushi (5-2-1 Tsukiji, Chuo-Ku) and Iwasa Sushi (Tsukiji Market Part 1 Bldg., 5-2-1 Tsukiji, Chuo-ku) are exceptional. Sushi-Zanmai lets you pick your dishes from a conveyor belt and is great value for money.
For the crispiest tempura in town, try one of the many branches of Ten-ichi. You'll find the Ginza branch at the intersection of Harumi Dori and Sotobori Dori.
Set serenely in a small garden behind a wooden wall, Kanda Yabu Soba (2-10 Kanda Awajicho, Chiyoda-ku) is an atmospheric spot to slurp up some delicious soba noodles. Try the "tendane" -- soba noodles in "tsuyu" soup, with deep-fried shrimp on the side, or sample the classic tempura soba -- soba noodles served in broth with deep-fried shrimp on top.
You shouldn't leave Tokyo without indulging in "kaiseki" -- an elaborate multi-course cuisine in which presentation is raised to an art form. Kanda (3-6-34 Moto-Azabu, Minato-ku,), and Kitcho, in the Hotel Seiyo Ginza, (1-11-2 Ginza, Chou-ku) have mastered that art and offer "kaiseki" masterpieces at suitably elevated prices.
Tokyo can be a tricky place for vegetarians but the traditional Zen Buddhist cuisine called "shojin-ryori" is completely vegetarian. Daigo (2-4-2 Atago, Minato-ku) has caught the attention of top western chefs with its elegant "kaiseki"-inspired "shojin-ryori". Its dining rooms overlook a serene garden of bonsai trees and the food is immaculate. Gesshinkyo (4-24-12 Jingumae, Shibuya-ku) serves a modern version of the style.
To eat and drink like a local, visit an "izakaya" -- essentially, a bar that serves food, usually at a good price. "Izakaya" offer sake and beer and usually have an open counter where chefs rustle up a selection of dishes that will include sashimi, noodles and "yakitori." Try Buri, a Tokyo chain that specializes in one-cup sake, or Cha Cha Hana (1-1-1 Kabukicho, Shinjuku-ku) -- a trendy take on the classic "izakaya," which serves up treats like potato dumplings stuffed with scallops.
Where to stay | What to see | Where to be seen | Where to eat | Where to shop
......................
Do you agree with our Tokyo picks? Send us your comments and suggestions in the "Sound Off" box below and we'll print the best.
E-mail to a friend