(CNN) -- Tokyo is a fantastic city at any time of year, but there are some annual events you won't want to miss. Here are some of the city's seasonal highlights.
Sumo (January, May and September)
To the untrained eye Sumo is just two fat men in loin cloths getting physical; in fact, Sumo is an immensely skilful sport that has been around for some 2,000 years and is steeped in Shinto mythology. Tokyo hosts 15-day tournaments ("honbasho") in January, May and September at Ryogoku Kokugikan stadium.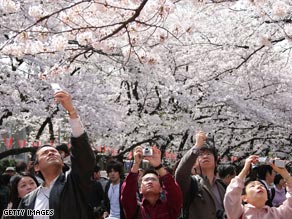 Tokyoites celebrate the arrival of the cherry blossom in Ueno Park.
There's no chance of getting hold of a ringside tickets, but you can pick up a standing ticket for about ¥500 ($4.70). Same-day tickets can usually be bought for the first 10 days of the "honbasho" and you can also get advance tickets at the venue. Although you may be tempted to join the crowds in a spot of cushion throwing after a particularly exciting bout, bear in mind stadium authorities frown upon this kind of exuberance.
Hanami (late March to early May)
If you're lucky enough to be in Tokyo in the springtime, you may get to take part in the much-cherished Japanese tradition of "hanami" -- cherry blossom viewing. An annual blossom forecast tracks the appearance of the cherry blossom, which only lasts for a couple of weeks. When the "sakura" blooms, Tokyoites gather in Ueno Park for feasting, singing and general merriment. Nighttime "hanami" is known as "yozakura" and paper lanterns are hung in Ueno Park for the occasion.
My City_My Life
Each month CNN visits the world's coolest cities with the celebrities who know them best.


Sanja Matsuri (third weekend of May)
The biggest and best of Tokyo's Shinto festivals is held at the Asakusa Shrine. Every year some two million people gather to watch as around 100 "mikoshi" -- portable Shinto shrines -- are paraded through the streets.
The three Senso-ji temple "mikoshi" weigh about a ton and are decorated in gold leaf and adorned with gold sculptures. They are paraded on the final day of the three-day festival, much to the delight of the assembled crowds, who jostle and shake them as they pass.
Kanda Matsuri and Sanno Matsuri are Tokyo's two other big Shinto festivals involving "mikoshi" parades and are held in alternating years. Kanda Matsuri is held at the Kanda Myojin Shrine on the weekend closest to May 15 and Sanno Matsuri is held between June 9 and 16 at the Hie-jinja Shrine.
Samba Matsuri
Asakusa is the place to be in late August if you want to see the ancient Japanese art of ...samba. Floats, bands and dancers parade down Kaminarimon-dori and and Umamichi-dori in one of the most fun, and occasionally surreal, samba carnivals you're ever likely to come across.
New Year's
The New Year period offers visitors a magical glimpse of traditional Tokyo. On December 23, the Emperor's birthday, and on January 2, the public is allowed into the grounds of the Imperial Palace, with the royal family greeting visitors from a distance.
On New Year's Eve, Tokyoites head to their neighborhood temples to hear the temple bells chime at midnight. The next day, it's customary to visit Buddhist and Shinto shrines to pray for good luck.
..................................
What events have you enjoyed in Tokyo? Send us your tips and suggestions in the "Sound Off" box below and we'll print the best.
E-mail to a friend