(CNN) -- Tokyo has a dynamic and varied nightlife, although, as with the city's restaurants, many of the best bars are tucked away off the beaten track.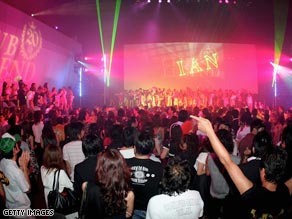 Tokyo has a buzzing clubbing scene.
The ultra-stylish New York Bar is among the best rooftop bars in the world. Located on the 52nd floor of the Park Hyatt hotel (3-7-1-2 Nishi Shinjuku) it offers spectacular views of the glowing, futuristic cityscape that is Tokyo after dark. There's fantastic food and live jazz, and as an added bonus, you may recognize it as the bar where Bill Murray first meets Scarlett Johansson in "Lost in Translation."
At Henry Good Seven it's the stunning interior that will catch your eye. At once kitsch, cozy and classy, it's a truly unique space by Tokyo design gurus Wonderwall. You'll find it tucked away on the seventh floor of the Shin-Marunouchi Building (1-5-1 Marunouchi) right across the street from Tokyo Station.
If you manage to locate it, you'll discover that Kita Aoyama Salon (Yamahazi Building, B1F, 2-7-18 Kita Aoyama, Minato-ku) is one of the city's coolest bars. Take the metro to Gaienmae, leave by exit 2 and turn right. An unmarked metal door will lead you to a barely-lit basement bar artfully kitted out in dark wood and antique furniture. It's open until 5 a.m. and manages to feel laid back and indulgent at the same time. Well worth seeking out.
Perennially popular with foreigners is the Roppongi area. Full of bars and restaurants, it's always lively -- and a bit tacky. Propaganda (Yua Roppongi Building 2F 3-14-9 Roppongi, Minato-ku) is an unfussy, affable shot bar with a good-value happy hour.
A world away from garish Roppongi is the Golden Gai area of Shinjuku. A ghetto of dark alleyways crammed with tiny ramshackle bars, Golden Gai evokes a bygone bohemian Tokyo of the 1960s. Some establishments aren't keen on foreign customers but La Jetee (1-1-8 Kabukicho, Shinjuku-ku) is a friendly little drinking den that's sure to offer a warm welcome.
A new arrival on the clubbing scene is the intimate Le Baron de Paris (Aoyama Center Building, Minami-Aoyama Minatu-ku), the Tokyo outpost of the Parisian night club. Designed in part by Marc Newson, it attracts a trendy and glamorous international crowd.
More established, and much less intimate, is Tokyo's finest superclub, Womb (2-16 Maruyama-cho, Shibuya-ku). More like the interior of a spaceship than a nightclub, Womb has dazzling lighting and attracts top international House and Techno DJs.
Where to stay | What to see | Where to be seen | Where to eat | Where to shop
......................
Do you agree with our Tokyo picks? Send us your comments and suggestions in the "Sound Off" box below and we'll print the best
E-mail to a friend