(CNN) -- Seattle is a city of permanent caffeine buzz. As well as being the birthplace of Starbucks, Seattle boasts countless independent coffee houses where the humble cup of Joe is served in all manner of fancy permutations. Fancy an iced maple white-chocolate mocha? Then this is your kind of town. Get your morning fix at the ever-popular Espresso Vivace Roasteria (901 E Denny Way and 227 Yale Ave), or at one of the many branches of local chain Tully's.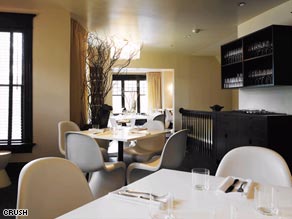 Restaurant Crush is still talk of the town.
After a morning of coffee-fueled sightseeing, carb load at Café Flora (2901 East Madison Street), which boasts a wholesome organic menu that just happens to be vegetarian. The hearty Sunday brunch is especially good.
You can always put together your own lunch by picking up some fantastic produce at Pike Place Market, or you can just browse the stalls before filling up on fiery Tex-Mex fare at World Class Chili (93 Pike Street), which is as good as its name claims. It's also a decent choice for spice-loving vegetarians.
Dinner in Seattle means picking from a huge selection of quality dining spots. Crush (2319 East Madison Street) is still talk of the town, which means you'll need to book well ahead to be sure of getting a table. The décor is minimal but warm, and the food is a fine example of what is known as Modern Northwest cuisine.
Modern Northwest cuisine has Asian and Native American influences and is big on fresh local ingredients -- which means plenty of seafood. Another great place to sample the style is at Canlis (2576 Aurora Avenue North), which overlooks Lake Union and is famed for its extensive wine list.
Chef Tom Douglas is reputed to be the originator of Northwest cuisine and his Dahlia Lounge (2001 4th Avenue) is famed for its desserts. Try the doughnuts with vanilla mascarpone, served still warm and utterly delicious.
For something more European you should venture to Campagne (86 Pine Street) to dine on robust southern French cuisine while looking out over Pike Place and across Elliot Bay, while Sushi fans will want to grab a seat at Shiro's Sushi Restaurant (2401 2nd Avenue). If you're lucky you'll get to see Kyoto-born chef Shiro Kashiba masterfully preparing fish plucked from the waters of Puget Sound.
Maneki (304 6th Avenue South) is another good bet for sushi, and if that doesn't satisfy your seafood cravings, make your way to Elliott's Oyster House on Pier 56. As well as oysters there's local Dungeness crab and wild Northwest salmon, and if the sun is shining the outdoor deck has glorious waterfront views.
Where to stay | What to see | Where to be seen | Where to eat | Where to shop
......................
Do you agree with our Seattle picks? Send us your comments and suggestions in the "Sound Off" box below and we'll print the best.
E-mail to a friend