(CNN) -- Seattle hosts some fantastic events that make the most of the great outdoors and the city's passion for music. Here are some of the best.
Northwest Folklife Festival (Memorial Day weekend -- last day of May)
This big, friendly free festival is a Seattle institution. More than 5,000 performers and artists present all kinds of folk arts, crafts and music that showcase the cultural heritage of the Northwest. Its informal, folksy atmosphere draws a fascinatingly diverse crowd to the Seattle Center and makes a refreshing change to all those soulless corporate festivals that are fashionable these days. The perfect place to release your inner hippie.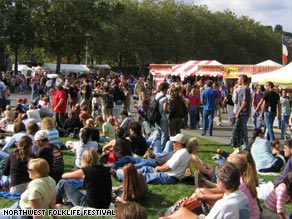 The Northwest Folklife Festival is big, friendly and free.
Bumbershoot (Labor Day weekend -- first Monday in September)
Seattle's biggest arts event is held at the Seattle Center. The festival features an eclectic selection of bands, comedy acts and dance performances, as well as author appearances and what is reputed to be the country's biggest short-film festival. Confusingly, having bought your entry ticket you'll need to buy additional tickets to watch some acts.
Trivia fans may be interested to know that the word "bumbershoot" is slang for umbrella, which may allude to the variety of performances encompassed in the festival, or to Seattle's soggy climate.
My City_My Life
Each month CNN visits the world's coolest cities with the celebrities who know them best.


Seafair (July)
Seattle's traffic comes to a standstill for the duration of this month-long waterfront extravaganza. The highlights are the hydroplane races on Lake Washington and the Blue Angels' aerobatic displays, but there are all manner of festivities throughout the city. You can watch boats made from milk cartons race on Green Lake or cheer on the Torchlight Parade, featuring floats, marching bands and the notorious Seafair Pirates.
Visitors flock to Seattle for Seafair, so if you're planning to be in town while it's on, be sure to book your accommodation well in advance.
Don't Miss
Bite of Seattle (July)
Sample the celebrated "Modern Northwest" cuisine at this fantastic food fair. Another Seattle Center stalwart, Bite of Seattle has been around for over 25 years and attracts salivating crowds of ravenous foodies. Seattle chefs lay on a smorgasbord of fresh local fare and there is also a good wine tasting area that showcases regional tipples. Bring plenty of cash and wear your loosest pair of pants.
As the birthplace of Jimi Hendrix and Grunge, Seattle has a proud musical heritage and the city boasts some excellent neighborhood music festivals. Among the coolest is September's Decibel Festival, a four-day electronic music event held in Capitol Hill. If you have a penchant for authentic Northwestern guitar noise you may prefer Ballard's REVERBfest, the Georgetown Music Festival, or the Capitol Hill Block Party, which showcase the finest local independent bands.
......................
What events have you enjoyed in Seattle? Send us your tips and suggestions in the "Sound Off" box below and we'll print the best.
E-mail to a friend