(CNN) -- Whether you're into exclusive bars, dingy dives or the dubious pleasures of a sweaty moshpit, Seattle has plenty to keep you entertained.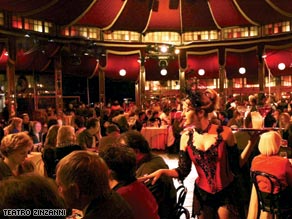 For something completely different, Teatro ZinZanni dishes up food, comedy and cabaret.
If it's a classy cocktail you're after then Zig Zag Café (1501 Western Avenue) is the place for you. The cocktail list is innovative and the drinks are lovingly crafted by master mixologist Murray -- something of a legend among Seattle's cocktail cognoscenti. Try "Satan's Soulpatch," made with bourbon, vermouth, Grand Marnier, orange and orange bitters -- devilishly good.
See Sound Lounge (115 Blanchard Street) is a stylish bar with futuristic décor and a knack of attracting top house DJs, while Cha Cha Lounge (1013 Pike Street) is a quasi dive bar decorated with images of Mexican wrestlers. Brash and bohemian, it's crammed full of hipsters hell-bent on having a good time. The drinks are reasonably priced, the Margaritas potent and happy hour lasts for the whole of Sunday and Monday. So it's best not to make any plans for Tuesday...
Seattle is a great city for beer lovers, with a profusion of microbreweries in the region. You can sample local draughts at the city's many brewpubs -- specialty establishments that usually offer a good selection of craft-brewed beers, along with their own microbrews. The Elysian Brewing Company (1221 East Pike Street) and Elliot Bay Brewery and Pub (4720 California Avenue SW) are both worth checking out. Get there early to work your way through their impressive range of ales.
Seattle is famous for being the birthplace of Grunge and while that particular genre may have had its day, the city still boasts a lively music scene. The Crocodile Café was a mainstay of the Seattle circuit until it closed in 2007, but the word is that it will re-open next year. Until then, there's always Re-Bar (1114 Howell Street), which also puts on some fantastic club nights, and Chop Suey (1325 East Madison) -- a hip, and often unbearably hot, place to check out up-and-coming bands and DJs.
Dimitriou's Jazz Alley (2033 Sixth Avenue) is an excellent jazz venue and there's live music almost every night at the Tractor Tavern (5213 Ballard Avenue). The cowboy boots dangling from the ceiling are a clue to the music policy, which tends towards folk, alt-country and bluegrass.
For something completely different, there's Teatro ZinZanni (222 Mercer Street), an OTT spectacular of the weird and wonderful. Tickets start at $104 and grant you access to a surreal combination of circus, cabaret and fine dining. The five-course menu was created by famed Seattle chef Tom Douglas and is accompanied by a three-hour show of vaudeville-inspired wackiness.
Where to stay | What to see | Where to be seen | Where to eat | Where to shop
......................
Do you agree with our Seattle picks? Send us your comments and suggestions in the "Sound Off" box below and we'll print the best
E-mail to a friend