(CNN) -- Kim moved to Seattle from California years ago and fell in love with the city. She moved back with her family in 2005, and now uses her camera to document Seattle for her photoblog, Seattle Daily Photo. Here she explains to CNN why she loves the city.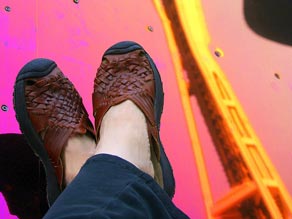 Kim is a Seattle resident who has a photo blog of the city.
"What strikes me most about Seattle is the verdant beauty of its setting between Lake Washington and Puget Sound, and within sight of two gorgeous mountain ranges, the Cascades to the east and the Olympics to the west. Spectacular Mount Rainier is an active snow-capped volcanic peak that looms large to the south, dominating the landscape when not shrouded in clouds.
"I also love Seattle culture, the amazing culinary variety of its acclaimed chefs and restaurants, its coffee culture, farmers markets, thriving art scene, the abundant opportunity for all kinds of active outdoor pursuits, and the thousands of boats on her lakes and on the Sound.

See Kim's stunning Seattle photos »
"My family especially enjoys the rich music scene here and we frequent jazz clubs like Tula's and Jazz Alley, and main stages like the Triple Door and the Moore Theater, as well as roots and indie rock venues such as the Tractor Tavern, Neumos, and the Showbox. Seattle's popular music heritage is long and varied; you can sample the history of Seattle's sonic pioneers at the Experience Music Project.
My City_My Life
Each month CNN visits the world's coolest cities with the celebrities who know them best.


"The people of Seattle are a polite lot who have a culture of waiting to allow others to pass on narrow streets and waving thanks. Participation in civic affairs is high, with moderate to progressive Democrat political leanings predominating. Groups tend to discuss issues and make consensus decisions democratically, rather than defer to charismatic leaders, and there are many businesses and organizations formed as cooperatives.
"Seattle is home to several universities and colleges and is one of the best educated and most literate cities in America. 51% of the current adult population are college graduates and our love of books and reading is the envy of librarians and booksellers around the world.
"Independent bookstores like Elliott Bay Book Company in the heart of Pioneer Square, sponsor frequent and well-attended authors' readings. In 1998, the citizens voted to pay for a 10-year overhaul of city's entire library system, building the award-winning and architecturally significant Central Library downtown, rebuilding all 23 branch libraries, and constructing 3 new branches.
Don't Miss
"The city prides itself on the fact that many civic buildings use innovative "green" building practices and materials. It is common to see grass growing on "green" roofs here. And, don't believe what you've heard about how wet Seattle is. Yes, we have an abundance of cloudy days, but our rainfall is actually less than that of New York City or Miami.
"I can't think of another place on earth as beautiful as Seattle on a blue-sky day in high summer. No matter the season, this is a wonderful city in which to live."

..................................
Do you agree with Kim? Send us your comments in the "Sound Off" box below and we'll print the best
E-mail to a friend