By A. Pawlowski
CNN
(CNN) -- It may be freezing in Washington in January, but the city is a red-hot destination for people around the country and the world eager to see President-elect Barack Obama sworn into office.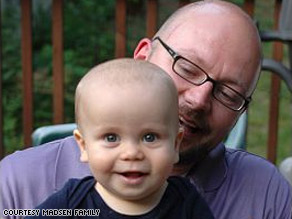 Dennis Madsen is planning to drive from Atlanta to Washington so his son, Adlai, can see the inauguration.
The nation's capital is preparing for a massive influx of visitors on Inauguration Day -- January 20, 2009 -- and the surrounding period of festivities, galas and celebrations.
"We've had a tremendous amount of interest from travelers who want to be here for the big historic moment," said Rebecca Pawlowski, director of communications for Destination DC, Washington's official convention and tourism corporation.
"It's certainly safe to say [crowds will be bigger compared to] the last inauguration, just because whenever there's a change in administration and whenever there's a change of party, it always fuels a little more interest."
Some Americans began making their travel plans well before the election, excited by the possibility of seeing the first African-American become president of the United States.
"I just feel like if you had the opportunity to be there for the Gettysburg Address or when Hank Aaron hit his historic home run, would you take it?" said Dennis Madsen, 39, an urban planner in Atlanta, Georgia.
He and his wife are planning to either pack up their station wagon or rent a motor home and take their 14-month-old son to Washington to see as much as possible of the inauguration. iReport.com: Send your snapshots of Washington, D.C.
"We're really doing this trip for him," Madsen said. "We thought this is something he might appreciate; maybe not consciously, but down the road."
Want inaugural tickets?
• U.S. senators and representatives receive a limited quantity of free tickets to the swearing-in that they can distribute to the public

• Contact them if you would like to attend the ceremony

• Tickets will be given out in January

Source: Destination DC
The drive is about 12 hours, but worth it, he added. The family plans to stay with friends who live in Takoma Park, Maryland, just outside the capital.
"I don't know if we're going to be able to get close enough to see the actual inauguration. It may be we'll need binoculars to do it," Madsen said. "But even if it were along the parade route, we could see [Obama] go by."
Across the country, Bonnie Sussman, 58, is getting ready for her journey to Washington with a much larger group. The social studies department chair at Bishop O'Dowd High School in Oakland, California, will lead a contingent of 81 students and a handful of chaperones to see the inauguration and experience the nation's capital.
They will stay at a hotel -- four students to a room -- in Arlington, Virginia. The trip is part of a program arranged by the Close Up Foundation, a nonprofit group that brings young people from around the country to Washington, Sussman said. She has been taking part in it since 1981 and has been to every inauguration since 1985.

See inauguration traditions and this year's theme »
'Exciting time'
Official estimates of how large a gathering the nation's capital will be host for are hard to come by.
The Washington mayor's office referred questions about the number of people the city was expecting to the U.S. Secret Service, where spokesman Malcolm Wiley said a crowd estimate figure was not available for release at this point. He declined to comment on whether it could be a record-breaking crowd.
People planning to visit Washington for the inauguration should be prepared for higher hotel rates and minimum stays of three to four nights, but they should be able to find lodging, Destination DC's Pawlowski said.
"One thing that I think is important to stress is that we do have hotel availability. It's going to be a busy time in the city and some hotels are sold out, but there are rooms to be had," she said.
In addition, local residents are planning to rent out their homes, so visitors can check listings on craigslist.org and room share sites for more accommodation options, Pawlowski said.
There are plenty of other online resources for those trekking to Washington in January. Expedia.com has launched a section specifically dedicated to inauguration travel. It recommends choosing hotels in suburban Washington, instead of the city itself, to take advantage of shorter minimum stays and lower prices. It also suggests looking for rooms in areas serviced by Washington's transit system.
If money is no object, some of Washington's hotels have put together extravagant packages for visitors who want to enjoy the inauguration in style. The Ritz-Carlton in Georgetown, for example, is offering a $99,000 "Red, White, Blue and Green" inauguration package, which it touts as "affordable luxury with an ecological twist."
No matter what their budget, Pawlowski advised visitors to plan, do their homework and be patient.
"There are a lot of people who are coming to Washington during that time period to be a part of history, so you'll definitely want to be flexible," she said.
"It's such an exciting time and such a momentous occasion that it's definitely worth being there and being a part of it."
E-mail to a friend

All About U.S. Presidential Election • Barack Obama