(CNN) -- Miami's nightlife is a microcosm of the city itself: showy, shallow and damn good fun. After a hard day's sunbathing the beautiful people like nothing more than a night of high-class partying and there's no shortage of nightspots to cater for them.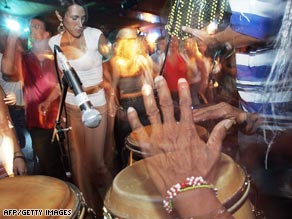 Latin rhythms at Hoy Como Ayer.
Unlike most cities, many of the best bars in Miami can be found in hotels, and Collins Avenue is hotel bar central. As soon as you walk past the billowing white curtains of the Rose Bar at the Delano (1685 Collins Avenue), you know you're somewhere a little bit special. Grab a champagne cocktail and head out back to drink it by the palm-lined pool. In fact, seeing as the pool's only a few inches deep, you can actually sip your drink in the pool, admiring the bronzed and perfectly toned eye candy all around you.
Even cooler is the Sky Bar at the Shores Club hotel next door (1901 Collins Avenue), which also goes in for poolside decadence, while the neighboring Raleigh Bar at the Raleigh Hotel (1775 Collins Avenue) is a classy, laid back spot for sipping cocktails.
Once you're done with the hotel bar scene, it's time to put on your dancing shoes. Unfortunately, many South Beach nightclubs are guarded by a merciless red rope that only yields to the rich and the beautiful, but if you're prepared to wait and/or flash your cash, you should eventually make it through the door and onto the dance floor.
If you fancy a challenge, try getting into Opium Garden (136 Collins Avenue). The queues are outrageous, but there's a reason for that -- and the reason is the outdoor dance floor. That and the chance to see Hollywood stars strutting their stuff. Mansion (1235 Washington Avenue) is also hugely popular, but with five dance floors and nine bars it can cope with the crowds.
Serious clubbers will want to head Park West, where Space (34 NE 11th Street) features international DJs and banging trance beats, while over in Wynwood, Circa 28 (2826 N Miami Avenue) is a chic lounge bar decked out like a gentlemen's club, and doubles as a full-on nightclub. If you're more interested in having a good time than celeb-spotting, you'll find this the perfect antidote to the South Beach 'scene.'
In this city where the DJ reigns supreme good live venues are few and far between and the recent demise of Studio A hasn't helped things. Churchill's (5501 NE 2nd Avenue) is a Brit-style pub/dive bar that sticks out like a sore thumb in the Little Haiti neighborhood and is the place to go for scruffy indie bands and old-school punk.
Little Havana is, as you might expect, the place to hear authentic Latin music. Hoy Como Ayer (2212 SW 8th Street) is as authentic as it gets, with traditional Cuban rhythms played alongside cutting-edge Latin fusions.
......................
Miami City Guide:
Where to stay | What to see | Where to be seen | Where to eat | Where to shop
Do you agree with our Miami picks? Send us your comments and suggestions in the "Sound Off" box below and we'll print the best
E-mail to a friend