(CNN) -- Miami has plenty of shops aimed at the fashionista jet set, but in a city as culturally diverse as this, there really is something for everyone.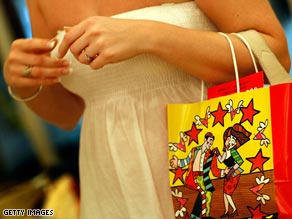 The Aventura Mall has something for everyone.
Bal Harbor Shops (9700 Collins Avenue) is the best place to score designer threads. Bal Harbor may be a mall, but it's no ordinary mall, open to the elements and landscaped with fish-filled ponds and palm trees. Its all-star roster of shops includes Prada, Gucci, Fendi, Louis Vuitton, Brooks Brothers, Tiffany & Co, Channel, Cartier and Saks 5th Avenue.
For a more proletarian shopping experience, try Aventura Mall (19501 Biscayne Boulevard), which has more than 250 stores, including Bloomingdale's and Macy's. It also boats a 24-screen movie theater, for when you're all shopped out.
If you're in South Beach, Lincoln Road and Collins Avenue are home to chains like Urban Outfitters, American Apparel and Banana Republic, as well as more interesting boutiques. Base (939 Lincoln Road) is the coolest shop in Miami, with limited-edition clothes, sunglasses, footwear and fragrances. Nearby, offshoot Base Annex (927 Lincoln Road) specializes in one-off furniture and quirky home accessories in an Alice-in-Wonderland-inspired setting.
En Avance (734 Lincoln Road) is a more upmarket proposition, with an interesting selection by the likes of Rebecca Taylor, Dsquared and Juicy Couture. Barney's New York Co-Op (832 Collins Avenue) combines New York cool with South Beach glamour, stocking the likes of 3.1. Phillip Lim, Stella McCartney, Marc Jacobs and Helmut Lang.
One of the most interesting clothes stores in the city is C Madeleine's (13702 Biscayne Boulevard), a vast space packed with fantastic vintage clothes and haute couture. The clothes may be pre-owned but this is no thrift store -- you'll find classic Pierre Cardin and Chanel designs looking as timelessly stylish as the day they were made.
Calle Ocho in Little Havana is good for cigars and Jesus statues of every description. El Credito Cigar Factory (1106 SW 8th Street) hand rolls its cigars on site. The Design District is, as you might expect, a good place to snap up something stylish for the home.
If you've got a car and some time to kill you might want to head out to Fort Lauderdale's Swap Shop (3291 West Sunrise Boulevard). A bizarre combination of fairground, drive-in movie theater and flea market, the Swap Shop makes for a fun afternoon's shopping. While not nearly as much fun, Compass Market (Waldorf Towers Hotel, 860 Ocean Drive) is a good bet for picking up holiday essentials like sun umbrellas and beach sandals.
......................
Miami City Guide:
Where to stay | What to see | Where to be seen | Where to eat | Where to shop
Do you agree with our Miami picks? Send us your comments and suggestions in the "Sound Off" box below and we'll print the best
E-mail to a friend