LONDON, England (CNN) -- The iPod dock, yoga charts and branded scents may come and go, but one item has remained constant in hotel rooms worldwide: the Gideon Bible.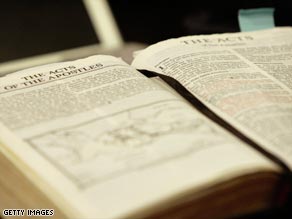 A Bible has become the stape in hotel rooms worlwide
Gideon International, an evangelical ministry run by businessmen, has been giving away its Bibles and New Testaments for a century.
In that time they have distributed nearly 1.5 billion of the tan-colored texts across 180 countries, and translated into 80 languages.
But times change. The world's cities are today a rich mix of cultures and faiths. And hotel chains want to appease their diversified clientele.
Researchers from the American Hotel & Lodging Association (AHLA) have found that the availability of religious material in hotel rooms is steadily increasing.
In 1998, 79 percent of the U.S. hotels they surveyed said they carried religious materials in rooms. That figure jumped to 96 percent in 2006. Today it is still at a high of 84 percent.
The chances are the text in the bedside drawer will still be a Bible. But Jessica Soklow, media relations manager at AHLA says that in recent years the range of publications on offer has expanded.
Hotel Preston, one of Provenance Hotel Group's boutique U.S. properties, now offers its guests a "spiritual menu" to choose from.
Sacred texts on offer at the Nashville hotel include the Koran, the Chinese Tao Te Ching, the Hebrew Bible, books on Scientology, as well as the Bible.
The Marriott hotel chain, which is owned by a Mormon family, has for years offered the Book of Mormon in its rooms.
The Nikko hotel chain, owned by a Japanese company but with properties worldwide, only supplies Buddhist literature.
While many hotel chains have a global policy, others leave the decision to individual hotels.
The Firmdale Hotels in London, part of the European Design Hotel chain, provide a Gideon Bible. But the Hope Street Hotel in Liverpool, another Design Hotel, decided against the Gideon in an effort to blend with the local area's religious mix.
"With an Anglican cathedral to our right and a Catholic cathedral to the left, we decided to take a secular approach," explains Mary Colston, the hotel's media manager. (While the Gideons draw from many Christian denominations, Catholics do not participate.)
Only one guest has commented on the absence of the Gideon Bible, says Colston, and she was provided a copy on request.
The Hilton Group also passes the decision to local managers. Thomas Lange, general manager of the Courthouse Doubletree by Hilton, ensures a Gideon Bible is placed in every room.
But staff are on hand to provide materials such as a prayer rug and Koran for Muslim guests. "This is a very common amenity that hotels provide, especially in London," he says.

Richard Quest examines the relevance of the Gideon Bible. »
Choice of religious materials may be widening. But Lange doesn't expect the Gideon to lose its dominance anytime soon.
"Sacred texts from the world's religions should be available, but there is a pragmatic economic point that it costs money to disseminate these texts," he says.
And the Gideons, with substantial resources behind them, have taken that initiative.
Gideon International, or Christian Commercial Travelers Association, began the practice of leaving Bibles in hotel rooms in 1908.
At that time, most of the members were traveling salesmen who thought a Bible could serve as a useful counterweight to the solitude and immoral behavior on the road. The first Bible was placed in a hotel in Montana.
"It goes back to the time of the reformation where one of the big ideas of the movement was to make sure that everyone from the highest to the lowest of the society would have a bible in their own language in their own hands," says Dr Edward Adams, senior lecturer of the New Testament at King's College London.
Within 20 years they had distributed one million copies. Today, the Gideons say they deliver 50 million Bibles and New Testaments every year, not only to hotels, but hospitals and doctors' offices, prisons, schools, colleges and universities, and military bases.
The Gideons, a media-shy organization, were unavailable for comment. But hotels report that a Gideon representative will make contact before it opens to offer copies.
At larger hotels, a representative arrives to present one copy to the general manager in a small ceremony, and the rest are passed to the housekeeping department for distribution.
When the Bibles are pinched, or become too worn, a local Gideon group will replace them at no charge.
And with service like that, who's to argue?
E-mail to a friend