By Joanna Goddard
(Budget Travel) -- I live in New York. But I also have flats in San Francisco and Los Angeles, and I keep a condo in Miami, a chateau in Switzerland and a pied-a-terre in every Paris arrondissement. You see, I'm a house swapper.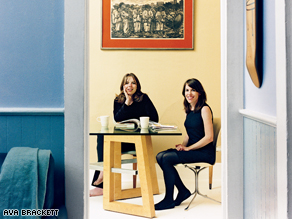 The author, right, and her sister stayed in a San Francisco couple's apartment while the couple stayed at her place.
As an avid traveler with a (very) limited budget, I've discovered that trading apartments with people I meet on the Internet -- they stay in my place while I'm crashing at theirs -- is an excellent way to save money on vacation. In fact, after seven successful trades, I've become addicted to swapping and have made converts of my boyfriend, Alex; my sister, Lucy; and my mom, Jean -- all of whom have accompanied me on trips. Sometimes I can't imagine ever shelling out cash for a hotel again.
My virgin house swap was, fittingly, in the city of love: Paris. My mom and I had long dreamed of visiting together, but our lack of funds forced us to keep postponing the trip. Finally, in 2006, I decided that enough was enough. Instead of being scared off by pricey hotels -- and break-the-bank exchange rates -- I went on craigslist.org to look for an apartment swap.
After I clicked on the "Housing Swap" link and typed in "Paris" and "September," the ideal place popped up: a one-bedroom apartment owned by Olivier*, a 30-something software company founder who wanted to visit Manhattan with his girlfriend. His home looked decent in the photos, and the central location on the Left Bank couldn't be beat.

Watch more on house swapping »
The timing also worked out perfectly, as we both wanted to travel to each other's cities in the first week of September. I e-mailed him photos of my apartment, and after a few polite exchanges, we were all set. I put my house keys in the mail, and I received Olivier's keys a week later. I couldn't believe how easy it was -- or how free. BudgetTravel.com: Where to shop for a swap
Two months later, my mom and I were on Olivier's tree-lined street, which was so beautiful it was almost clichéd: chic couples strolling arm in arm, children playing soccer, a wine bar on the corner. Olivier's fifth-floor apartment was equally charming, with huge windows overlooking a sunlit courtyard, and a cute kitchen where Olivier had left us a bottle of wine.
"You can tell a bachelor lives here," my mom said with a laugh when she noticed the mattress on the floor in lieu of an actual bed. The mattress, however, was surprisingly cozy -- and proved to be a perfect spot for reading maps in the morning and Voltaire at night.
House swapping not only allowed us to drop into the city, but into a Parisian lifestyle, too. I often feel like an outsider when I visit new places, and I observe with an anthropologist's fascination how the locals go about their days. I'll mimic their eating habits, gestures and pastimes until it's time to go back to my hotel.
Staying in Olivier's apartment, however, enabled me and my mom to slip into his life. We bought our morning espresso from the neighborhood café he had recommended. We roasted a chicken in his kitchen one night and ate at a nearby bistro the next. We chatted with the neighbors on the stairs, fiddled with the leaky sink in the kitchen, and read Paris Vogue on the sofa. And, like Olivier, we felt Parisian -- at least for a week. BudgetTravel.com: Tips from savvy swappers
A born-and-bred control freak, I've always chosen my hotels after scouring magazine articles and grilling my friends for recommendations. When you book a room that way, you know what you'll get -- and you pay for that reliability. House swaps, however, force you to take a leap of faith. There's usually no contract or security deposit. And you never receive a reservation confirmation.
When I arranged my Paris swap, I had to trust that Olivier was telling the truth about himself and his apartment. I was a bit nervous on the flight to France, with images of serial killers, con artists and rats flashing through my mind. But after a few glasses of wine, I got over my fears. House swappers quickly realize they need to be open-minded and have a sense of humor about the unexpected inconveniences that can pop up. And, browser beware: Some swaps do come with surprises.
This past May, my sister and I traded places with Michael, the owner of a club in San Francisco, and Sabrina, his girlfriend. The second-floor apartment was gorgeous, with hardwood floors, a flat-screen television and a large, comfortable bedroom. And I especially loved the claw-foot tub -- a real treat for a Manhattanite.
Michael and Sabrina had also left us free tickets to concerts and recommended we eat at Patxi's, a deep-dish-pizza restaurant they love down the block. On a sunny Saturday, we purchased fresh vegetables at the farmers market and tried out a few recipes we found while flipping through their cookbooks.
We just weren't prepared for something else they had left behind in the apartment. While I was watching a movie in the living room one morning, a mouse suddenly scampered under the ottoman. I shrieked and threw a magazine beneath the chair to try to scare it out.
Later that day, my sister suggested we call Michael at my apartment in New York to tell him about it, but in the end, we decided against it. We figured that our fuzzy new roommate was just part of the experience -- and the disturbance was offset by all the perks, such as the six-pack of beer that Michael and Sabrina had left on the counter as a gift.
On another swap, I learned I had to be better about trusting my intuition. In the afterglow of my Paris vacation, my boyfriend and I arranged to swap homes with a couple from Los Angeles for five days over Christmas.
I noticed something strange about the pestering nature of the wife's e-mails from the start. "I take pride in keeping my home neat and hope you do the same," she wrote. It will be fine, I assured her. "Do you have a washing machine?" she asked. In Manhattan? Hardly. "A dishwasher?" Nope. After the fourth or fifth e-mail, I was starting to have second thoughts about the swap, but I went ahead with it anyway, figuring that everything would turn out alright.
When we arrived at the couple's bungalow two months later, my concerns had abated. But then I discovered a typed list of instructions on how to keep the house spick-and-span -- down to the correct way to wipe the fridge. As the week went on, I felt as if I was in "The Odd Couple": I was messy Oscar Madison, and the woman who owned the apartment was fastidious Felix Unger.
Every time a crumb fell, my heart skipped a beat. A friend gave us toffee for Christmas, and I promptly banned it from the house. "Look at those nuts!" I gasped, imagining them scattering on the floor. The wife seemed to be keeping a close eye on us, too. She phoned twice from New York to make sure we were taking care of her house, and twice to complain about my place -- she couldn't turn the key in the lock, and the radiator was rattling too much.
In the end, the stay was worth the trouble. By laughing at the situation, Alex and I were able to enjoy the California sunshine without worrying about our over-attentive host. Not to mention that her idiosyncrasies made for great breakfast conversation.
Of course, apartment swaps raise logical concerns about safety and privacy. When I tell friends about my trades, the first question they inevitably ask is: "You let strangers stay in your house?" That's usually followed by: "Do you hide your computer?" Allowing people into your inner sanctum is rattling, to say the least.
At first, I couldn't picture strangers sleeping in my bed or drying themselves off with my towels. But I've found that I can usually get a good sense of people through their e-mails -- friendly and enthusiastic people who open up about their lives naturally put me more at ease than those who come off as guarded. Plus, once we become chummy over e-mail, I don't feel as uncomfortable about having them in my home.
In fact, I begin to look forward to their stay, as if they were friends, not strangers. Alex and I don't take too many pains to safeguard our house; we don't lock up our valuables or laptop in a closet, and we don't even have renter's insurance. Yet the only thing that's ever disappeared was a small part of our coffeemaker. (If you're reading this, Olivier, where is that missing piece?!) I've also never returned to a messy house -- our guests always make the bed and put the dishes away before they leave.
The other concern I had about opening my home to strangers was that my life would be on display. Alex and I were in a tizzy preparing the apartment before Olivier and his girlfriend came to stay. "Do you think they'll like us?" I asked as I fluffed the duvet. "Will they think our place is too small?"
"They'll think we're obsessed with World War II," Alex quipped, looking at our shelf filled with history books. "Is that odd?" I replied, suddenly panicked. "Should I hide a few?"
Partly because I was curious and partly because I have a masochistic streak, I recently e-mailed the people we had swapped with to ask what they thought of our place. Olivier was the first to respond. "We were happy for your West Village neighborhood," he wrote in his broken English. "Yours was the first American place we had seen with interesting books." I gave myself a pat on the back -- we are fabulously literary, c'est vrai.
But I wasn't prepared for his next observation: "I wondered if you were single, as your bed was small and not very, let's say, adapted for two." A very French thing to say. And a bit rich coming from a guy who sleeps on a mattress on the floor.
Next, an e-mail arrived from the Los Angeles couple. The wife started out nicely enough. "Your many books made you seem like the intellectual type," she wrote. But then she moved in for the kill. "The shower was grimy, and there were dust bunnies on the floor," she wrote. Her husband chimed in next: "And the bedroom smelled like old saddles from the shoes." Ouch! I felt as if I had been socked below the belt. It's one thing to slam a girl's shower, but it's quite another to disparage her shoes.
The critique of my lifestyle notwithstanding, my house-swapping experiences have been extremely positive. I've saved thousands of dollars and gotten remarkable insight into the lives and habits of San Franciscans, Los Angelenos and Parisians, among others. I've also learned that no matter where you go, you can always find people who share your values and mind-set -- my swaps worked out well because I found a community that was as curious, trusting and adventurous as I am.
I'm currently house hunting for my next vacation, in Tokyo. So if you see me on Craigslist, hit me up for a swap. I promise to move my shoes out of the bedroom.
* His name has been changed to protect his privacy.
E-mail to a friend

Get the best travel deals and tips emailed to you FREE - CLICK HERE!
Copyright © 2008 Newsweek Budget Travel, Inc., all rights reserved.
All About Air Travel