By Paul Vercammen
CNN Senior Producer

BAKERSFIELD, California (CNN) -- Standing in a field of organic tomatoes, farmer Pete Belluomini says the ground-cracking drought and unrelenting insects make it difficult enough to make a living on the land.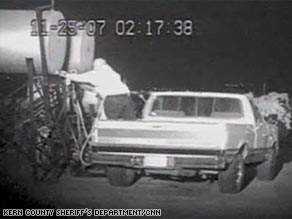 Farmer Steve Belluomini says thieves recently stole more than 900 gallons of diesel, costing him $4,000.
But they are the least of his concern these days as a new menace haunts farmers in Bakersfield, California: diesel thieves.
Sgt. Walt Reed of the Kern County Sheriff's Department and a member of California's Rural Crimes Task Force said that more than $300,000 worth of diesel fuel was stolen in Kern County in the past three months.
"It's an epidemic, gigantic problem," Reed said. "In Kern County alone, we're getting reports of five to seven diesel thefts from farms a week. It's happening in other parts of the San Joaquin Valley, too."
The crooks work around the clock, searching during the daytime for irrigation pumps run by diesel engines and supply tanks filled with diesel or gasoline, police and farmers say. They return at night, with their headlights off, to steal hundreds of gallons of fuel at a time.
What are the thieves doing with the stolen diesel?
Reed suspects that they're selling the fuel to truckers who've been hit hard by skyrocketing prices. With the national average of regular unleaded gasoline at a record high of about $4.00 a gallon and more than $4.75 per gallon for diesel, according to AAA, Reed says it makes it even harder for them resist the temptation of cheap fuel.
"It's going to cost him $500 to fill up, and he can fill up [on stolen diesel] for $200," Reed said. "What's he going to do?"
Belluomini's operation outside the farming town of Arvin, California, got hit hard recently; he estimates that thieves took more than 900 gallons of fuel from several sites, valued at more than $4,000.
Squatting next to one of the siphoned pumps, Belluomini, 47, showed CNN a rectangle-shaped metal box below the diesel engine that stores about 250 gallons of diesel, black gold to thieves.
Don't Miss
The veteran farmer estimates that they siphoned the diesel straight into barrels in the back of a van or pickup and drove away, vanishing into the darkness of unlit country roads.
"Like any good thief, you just don't see them, and that's probably part of the frustration," Belluomini said. "It's like, 'If I could just catch that guy, boy, what would I do!' "
Locks don't work, according to Belluomini. He says the tenacious thieves use bolt cutters or even torches to get to their loot. Cash-strapped farmers, struggling to make ends meet, can't afford to pay security guards to stand watch over pumps and tanks.
Belluomini says he and other farmers are forced to barely fill their pumps, leaving little diesel to steal. But that cuts into the bottom line, as laborers must make extra trips just to keep refueling.

Thieves caught on camera stealing fuel »
Consumers could ultimately pay the price if the diesel thefts continue and put farmers out of business. Though it hasn't had a direct effect, Belluomini says it's possible that if the supply shrinks, produce prices could increase.
The wave of diesel thefts isn't isolated to the the San Joaquin Valley. Other counties are dealing with their share of the ripoffs, and reports of fuel theft are pouring in from all over the country.
A thief recently hit vans at a U-Haul lot in Ohio. In Detroit, Michigan, auto body shop owner Dale Fortin is repairing a new problem that's recently surfaced: replacing gas tanks punctured by thieves.
"It's crazy; the world is crazy," Fortin told CNN affiliate WDIV. "They will take [a cordless drill] and drill a hole in h[the gas tank]. They either put a pan under there or stick a hose in there. They sit on the side with a can and dump the fuel out."
Replacing a punctured gas tank could cost anywhere from $300 to $500 on passenger cars.
"Not only do you lose your fuel, now you have to repair your gas tank," Reed said.
Although gas is also being stolen in Kern County, Reed says, the main target right now is diesel on farms.
The diesel heists just add to the misery of weary San Joaquin Valley farmers, including Belluomini, who have been hit by metal thieves who mined their farms for the copper in the irrigation systems.
"The problem ... some farmers are facing is, they couldn't turn on their [irrigation] pumps last summer because of the copper theft," Reed explained. "This summer, they can't turn on their pumps because they stole the diesel. What's next? Are they going to steal the pumps?"
Reed says most of the metal and diesel thieves are drug addicts who rip off anything they can to turn it around for fast cash to buy more narcotics, especially methamphetamine. Most of the metal is bought by scrap yards.
Soft-spoken Pete Belluomini, who is the former president of the Kern County Farm Bureau, is angry and wants people to understand the challenges of modern-day farming.
"I have enough to worry about. 'Is it going to be hot [or] cold? Is the wind going to blow?' " Belluomini said. "Now you have to start worrying about, 'Is everything locked, bottled up and capped off?'
"All we're trying to do is provide a good product to the consumer and make a living."
E-mail to a friend

All About Gas Prices