From Abbie Boudreau and Scott Zamost
CNN Special Investigations Unit
(CNN) -- Louisiana officials are demanding that hurricane supplies the Federal Emergency Management Agency gave away be returned to help victims of Hurricane Katrina.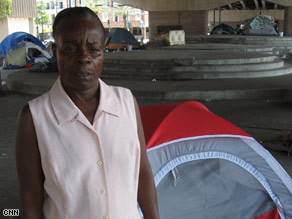 Debra Reed lived in a tent after Katrina and says she needed the supplies given away by FEMA.
Their request comes after a CNN story Wednesday revealed that FEMA had given away $85 million in supplies that lingered on storage shelves while hurricane victims suffered without the items they needed.
In a letter to Homeland Security Secretary Michael Chertoff, Sen. Mary Landrieu demanded answers from FEMA.
"While I understand the stated need to save taxpayer money being spent storing these materials, I am concerned that there are still ongoing needs for these type of goods in my state," Landrieu wrote Chertoff, whose department includes FEMA.
She asked for Chertoff's assistance "in reviewing this situation and redistributing these goods."
The Louisiana Recovery Authority announced that it was asking the federal government to return goods "that were intended to help disaster victims in Louisiana but were marked as surplus and remain unused." iReport.com: Rebuilding the Gulf Coast
"Many of these items are believed to be household goods that could help residents moving out of FEMA trailers re-establish their homes," the agency said.
The CNN investigation found FEMA gave away extensive stocks of items such as cots, cleansers, first-aid kits, coffee makers, camp stoves and other items that had been bought as "starter kits" for people living in trailers after the 2005 hurricane.
"There is a particular and critical need for exactly these materials -- especially household goods --- by organizations dealing with the critical problem and homelessness as a result of hurricanes Katrina and Rita," Landrieu wrote. "One such organization is Unity of Greater New Orleans, which works with FEMA to house homeless hurricane victims and was featured prominently in the CNN piece."
Martha Kegel, the director of Unity of Greater New Orleans, said she was shocked to learn about the existence of the goods and the government giveaway.
"These are the very things that we are seeking right now," Kegel said." FEMA, in fact, refers homeless clients to us to house them. How can we house them if we don't have basic supplies?"
Before the giveaway, pallets at a warehouse in Fort Worth, Texas, were piled high with boxes of buckets, boots, cleansers, mops and brooms, as well as clothing, bedding, plates and utensils.
General Services Administration records show FEMA gave away 121 truckloads of material that had been declared surplus property and offered free to federal agencies and states.
Louisiana officials originally passed on taking any of the supplies when FEMA offered them to states. John Medica, director of the state's Federal Property Assistance Agency, said he was unaware that Katrina victims still had a need for the household supplies because no agency had contacted his office.
But Thursday, a spokeswoman for the Louisiana Recovery Authority told CNN it was working with FEMA to try to get similar items to help Unity and other groups. The supplies "would have gone a long way toward helping residents re-establish their households," agency spokeswoman Christina Stephens wrote in an e-mail to CNN on Thursday.
"We hope that any of the supplies that the federal government has in its possession that could benefit hurricane victims would be returned to the state," she said.
James McIntyre, FEMA's acting press secretary, told CNN earlier that FEMA was spending more than $1 million a year to store the material and that another agency wanted the warehouses torn down, so "we needed to vacate them."
E-mail to a friend

All About Federal Emergency Management Association • Hurricane Katrina