By Maria Dugandzic
CNN

CHICAGO, Illinois (CNN) -- The odds were never good for 16-year-old D'Angelo Gardner. His father died of a heroin overdose when he was 9 years old, and by the eighth grade, he was caught up in a gang.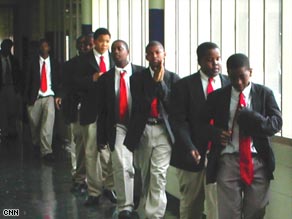 The Urban Prep Charter Academy for Young Men was founded in 2002 to help students on Chicago's southside.
"I had a real bad attitude towards ... everybody. I didn't wanna talk, I didn't wanna do work," D'Angelo recalls. "It was just hard, and I didn't wanna be there."
Growing up in Englewood, one of the city's toughest neighborhoods, the statistics for young black men are grim. Only one in 40 African-American males in Chicago will finish college, and 50 percent will drop out of high school. If that weren't bad enough, guns and gang violence are almost a part of daily life. This year, nearly 30 Chicago Public School students have been shot to death.
But in the center of this impoverished neighborhood, there is hope.
The Urban Prep Charter Academy for Young Men, founded in 2002, has become a haven. The charter school, which is not part of the Chicago Public Schools system, has a mission to prepare young black men for college and promote self-esteem and success.

School motivates students to succeed »
Black in America
In the next installment of CNN's Black in America series, Soledad O'Brien examines the successes, struggles and complex issues faced by black men, women and families -- 40 years after the death of Rev. Martin Luther King Jr.
Watch July 23 and 24, at 9 p.m. ET
Students regularly recite the school's creed, which reaffirms their commitment to higher education. They pledge to respect themselves, family members and fellow classmates and to live "honestly, nonviolently and honorably."

Listen to students recite creed »
D'Angelo's mom did everything she could to get her son into the school, where 90 percent of the students come from single-parent, female-headed households. When D'Angelo and his fellow freshmen entered the school two years ago, they were reading at a sixth-grade level.
Teachers and administrators have seen a dramatic improvement. D'Angelo says he used to be allergic to homework, but not anymore.
"I still have to get my study habits up, but I touch books. I touch books now," he says.
Tre Childress, who teaches math and science, has been at the charter school since it opened. He says that at first, D'Angelo and his classmates didn't have the skills to think critically.
"They kind of wanted to just sit there and be spoon-fed," Childress recalls. "Now, they want to actively be engaged in discussions. They want to debate each other, and they're performing at a high level as far as their own cognitive ability."
Fact Box
The Urban Prep Creed
We believe.
We are the young men of Urban Prep.
We are college bound.
We are exceptional -- not because we say it, but because we work hard at it.
We will not falter in the face of any obstacle placed before us.
We are dedicated, committed and focused.
We never succumb to mediocrity, uncertainty or fear.
We never fail because we never give up.
We make no excuses.
We choose to live honestly, nonviolently and honorably.
We respect ourselves and, in doing so, respect all people.
We have a future for which we are accountable.
We have a responsibility to our families, community and world.
We are our brothers' keepers.
We believe in ourselves.
We believe in each other.
We believe in Urban Prep.
WE BELIEVE.

Academics aren't the only thing students have embraced at the school. They've also accepted their teachers as role models. Sophomore Marlon Marshall says he knows he's not alone when he walks down the halls of Urban Prep.

"When they see I'm not working to the best of my abilities, they pull me aside or they give me extra work," Marlon says. "They say, 'This is the level you need to be working on, because this is where I see your ability.' "

The young men take pride in their school as they stride through the hallways lined with banners from Ivy League and historically black colleges and universities and into classrooms where Mac laptops await them.

"It's always great when [mothers] come and say, 'My young man was doing this, and I was pulling my hair out, and now he's helping out around the house, helping with his brothers and sisters; he's more responsible.' That makes you feel really good," Childress boasts. "They're living our creed at home and in the community, and that really makes our chest stick out a little more."

Teachers and students have a lot to be proud of. Marlon won several awards this year for his achievements in track and field. He talks about his aspirations of becoming a lawyer or a politician. D'Angelo plans to become an engineer.

"I take school a little bit more seriously," D'Angelo says. "It's not just a place to come and joke around for the hours that you're not at home. You have to work."

Both young men have been accepted into a summer program at Georgetown University in Washington. It's an opportunity they would have never dreamed of a few years ago. D'Angelo hopes his experience will help him inspire some of his old friends.

"I tell them straight up ... 'You have to do something else, not just hang in the neighborhood all the time; there's other things out there,' " D'Angelo says.

Marlon has embraced these new opportunities and refuses to fall into the stereotypes some people have about young black men.
Don't Miss
"Young black man who cannot graduate from high school or go to college, a young black man better off in jail," Marlon says. "They fall under that statistic because they don't have a motivation or push to stop them from doing whatever things they are doing to get them into that status."
Motivation and opportunity are just what Urban Prep has provided these young men who are wrapping up their sophomore year.
As another school year winds down, the hallways are abuzz with excitement. Clusters of young men make their way toward the school's gymnasium. It's around lunchtime, and the atmosphere is a bit relaxed. Some of the boys' blazers are unbuttoned, and red ties are slightly crooked. They have gathered for their annual achievement awards luncheon, called Tropaia, a word that in ancient Greece symbolized trophies and victories.
Today, these young men are also claiming victory as they stand up in unison to chant the school's creed and mark an end to another school year in their battle to beat the odds.
E-mail to a friend