From Bill Mears
CNN Senior Producer

WASHINGTON (CNN) -- A former Army scientist who was named a "person of interest" in the deadly 2001 anthrax attacks has reached a multimillion-dollar settlement with the Justice Department.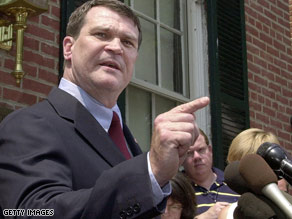 Steven Hatfill, seen here in 2002, denies any connection to the deadly 2001 anthrax attacks.
Steven Hatfill sued former Attorney General John Ashcroft and the department in 2003, claiming that his privacy was violated when his name was leaked to the media in connection with an investigation into the biological attacks in the eastern United States.
Five people were killed and 17 became seriously ill in the attacks.
Hatfill, a former Army bioweapons researcher, has steadfastly denied involvement in the attacks and was never charged in the investigation.
In a statement released Friday afternoon, department officials said Steven Hatfill will receive a one-time payment of $2.825 million and a $150,000 annuity.
"The government failed us, not only by failing to catch the anthrax mailers but by seeking to conceal that failure," a lawyer for Hatfill said Friday. "Our government did this by leaking gossip, speculation and misinformation to a handful of credulous reporters."

Watch Hatfill deny connection to anthrax attacks »
The government would not admit liability in connection with Hatfill's claims.
Beginning in October 2001, anthrax-laced letters arrived at the offices of U.S. Sens. Tom Daschle of South Dakota and Patrick Leahy of Vermont and at television network news offices in New York.
Two U.S. Postal Service employees in Washington; an employee at American Media Inc. in Boca Raton, Florida; a 94-year-old woman in Oxford, Connecticut; and a New York hospital supply room worker died of exposure to anthrax.
Ashcroft named Hatfill as a person of interest. In his lawsuit, the scientist claimed that other government officials leaked inaccurate and inflammatory information about him.
"I am not the anthrax killer," he said at an August 2002 news conference, one of the few times he has commented publicly.
His attorneys said Hatfill would not comment on the settlement.
After Hatfill was designated a "person of interest," he lost his job at Louisiana State University, where he was helping train first-responders to handle a bioterrorism attack, and had his apartment searched three times.
Other scientists who worked at government laboratories, such as Fort Detrick in Maryland, say they also came under unfair suspicion.
A federal judge put the lawsuit on hold in 2002 at the request of the government, which said the investigation was at a critical stage.
Though at least two dozen FBI agents conducted more than 9,000 interviews in the case, investigators told CNN privately in 2006 that the case was stone cold.
The FBI had hoped to use science to trace the source of the anthrax, a biological spore that even in small amounts can prove deadly and can be easily transmitted through the air.
The Ames strain identified in the 2001 attacks was commonly used in U.S. government labs. Scientists said that creating a "weapons-grade" form of anthrax is a complex process, requiring extensive professional expertise.
The killer or killers have not struck since the initial attacks, and no arrests have been made.
E-mail to a friend

All About Anthrax • Steven Hatfill • U.S. Department of Justice