By Mike Mount
CNN
(CNN) -- "I can't find the right words to describe when you are homeless," says Iraq war veteran Joseph Jacobo. "You see the end of your life right there. What am I going to do, what am I going to eat?"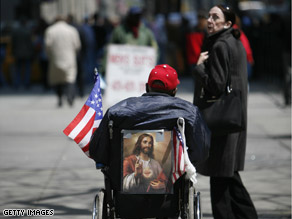 War trauma sends many veterans to the streets where they beg for survival.
Jacobo is one of an increasing number of veterans of the wars in Iraq and Afghanistan who come home to life on the street. The Department of Veterans Affairs is fighting to find them homes.
Veterans make up almost a quarter of the homeless population in the United States. The government says there are as many as 200,000 homeless veterans; the majority served in the Vietnam War. Some served in Korea or even World War II. About 2,000 served in Iraq or Afghanistan.
The VA and several nongovernmental organizations have created programs that address the special needs of today's veterans returning from war. In addition to treating physical and mental injuries, there are career centers and counseling programs. But the VA still expects the homeless rate among the nation's newest veterans to rise because of the violent nature of combat seen in Iraq and Afghanistan.
Officials say many more Iraq and Afghanistan veterans suffer post-traumatic stress disorder than veterans of previous wars. The government says PTSD is one of the leading causes of homelessness among veterans.
"They come back, and they are having night trauma, they are having difficulty sleeping. They are feeling alienated," says Peter Dougherty, the director of homeless programs for the VA.
The VA says 70 percent of veterans from Iraq and Afghanistan saw some form of combat, either through firefights, rocket attacks or the most common strikes on troops -- roadside bomb attacks on their vehicles.
Don't Miss
That is three times the rate of combat experienced by Vietnam veterans, according to the VA.
Jacobo spent more than a year as an Army mechanic in Iraq between 2004 and 2006. He saw many of his fellow soldiers killed during attacks on his base. He suffers from PTSD and found himself homeless after being discharged from the Army in 2006, but recently moved into a VA-funded shelter in Washington.
Until he found the VA facility, he was sleeping in laundry rooms and washing himself in fast food restrooms until he would be kicked out.
Jacobo says he speaks to many veterans from Vietnam who say that if the programs veterans receive today were available to them, they would most likely not be homeless.
"Where would I be if it was not for this place? Where would I get a job to give an address to an employer? They have phones here where you can make calls, so this is the step every veteran needs to have. A place for an address, a phone where you can be contacted and this is really good," says Jacobo.
The VA and organizations that help veterans are trying to reach out to those who may not know there is help available or are not interested in assistance. Social workers walk the streets and scour soup kitchens looking for vets who might need help, working with organizations that offer shelter or medical assistance.
"Because we are convinced, and we know that the earlier the intervention happens, particularly when it is related to PTSD, the better the prognosis is for recovery," Dougherty says.
"Unfortunately, we have learned much to our detriment when we didn't recognize PTSD as an illness that people suffer with it for decades, and when they tried to get it addressed, it was a much longer and more difficult process to get that readjustment," Dougherty says.
While the VA is prepared for a rise in homeless veterans, it is taking a measured approach. Based on statistics from around the country, the number of homeless veterans is increasing slowly, which the VA attributes to the programs already in place.
Dougherty says the outlook is good for future veterans.
"We are also increasing significantly the level of services we provide, not only in homeless programs, but we are really focused more on the prevention of these veterans from ever becoming homeless in the first place," he said.
E-mail to a friend

All About Iraq War • Afghanistan War • U.S. Department of Veterans Affairs