By Abbie Boudreau and Scott Zamost
CNN Special Investigations Unit

BILOXI, Mississippi (CNN) -- Prisons in Mississippi got coffee makers, pillowcases and dinnerware -- all intended for victims of Hurricane Katrina.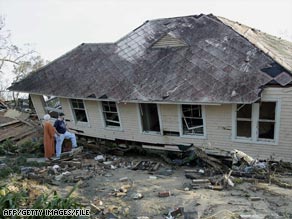 People check out the second story of a home sitting on the ground in Biloxi, Mississippi, after Katrina in 2005.
The state's Department of Wildlife, Fisheries and Parks took more coffee makers, cleaning supplies and other items.
Plastic containers ended up with the Mississippi Department of Finance and Administration.
Colleges, volunteer fire departments and other agencies received even more.
But the Mississippi hurricane victims who originally were intended to receive the supplies got nothing, a CNN investigation has found.

Watch victims tell why they need the items »
"It's scary to know that there are supplies that they are harboring and people [are] in need right now as we speak today," said Sharon Hanshaw, director of Coastal Women for Change, a nonprofit group helping storm victims.
Last month, CNN revealed that the Federal Emergency Management Agency had stored $85 million worth of household items in warehouses for two years. Instead of giving the supplies to victims of the 2005 hurricane, FEMA declared them surplus and gave them all away to federal agencies and 16 states in February.
The state of Louisiana -- the most hard-hit by the storm -- had not asked for any of the supplies, prompting outrage in the community after the original CNN report.
CNN's investigation showed that Mississippi was one of the 16 states that took the FEMA supplies, but it did not distribute them to Katrina victims.
Jim Marler, director of Mississippi's surplus agency, failed to return repeated phone calls over several months to explain what happened.
Agency spokeswoman Kym Wiggins said, "There may be a need, but we were not notified that there was a great need for this particular property."
That doesn't sit well with most aid groups in Mississippi. "You would have to be living under a rock not to know there is still a need," said Cass Woods, the project coordinator of Coastal Women for Change.
Wiggins said that nonprofit organizations must meet federal guidelines and register with the state and that no such groups helping the needy or homeless were registered with Mississippi's surplus agency.
"There is no specific designation outside of a disaster period that says we have to have sustained properties going to the disaster area," Wiggins said.
CNN interviewed the leaders of eight nonprofits helping Katrina victims at a Biloxi, Mississippi, church used as a staging area for community groups. All said they had no idea these items were available, and most had no idea the surplus agency existed.
"We work so hard to help people in our community when the government is holding back stuff that we can use to give people," said Glenda Perryman, director of United Hearts Community Action Agency.
Roberta Avila, director of the Mississippi Coast Interfaith Disaster Task Force, said, "It's needed even more now than right after the storm."
Records show Mississippi's surplus agency received household supplies, including dinnerware sets, towels, shirts, pants, shoes and cleaning items.
Those are the kind of household items that Howard and Gloria Griffith said they could have used since the storm and still need. The Griffiths said they spent every penny to rebuild their home. But they can't afford to finish it, so they're still living in a FEMA trailer on their property in Biloxi with their teenage son.
"I've never seen none of it," said Gloria Griffith after CNN showed her photos of some of the supplies that FEMA had kept in storage.
FEMA said it was costing more than $1 million a year to store the supplies, but officials have not been able to answer why the agency didn't get the supplies to Katrina victims. Both FEMA and the General Services Administration said the items originally were purchased or donated for victims of hurricanes Katrina and Rita.
In the wake of the CNN investigation, a FEMA official said the agency was launching an internal probe into the storage of the household supplies.
Bill Stallworth, executive director of the Hope Coordination Center in Biloxi that helps rehouse Katrina victims, said he's astounded that the supplies were given away.
Stallworth and other community leaders said if they had known the FEMA items were available, they would have begged for them.

"And when I hear people stand up and just beat their chest and say we've got everything under control, that's when I just want to slap them upside the head and say, 'Get a grip, get a life,' " said Stallworth, who is also a Biloxi city councilman.
E-mail to a friend

If you have a story tip, e-mail SIU.TIPS@CNN.com
All About Hurricane Katrina • Mississippi • FEMA