(CNN) -- Three Americans rescued last week from captivity in the Colombian jungle left a medical center for their homes Saturday, hoping for some time out of the spotlight as they reconnect with loved ones.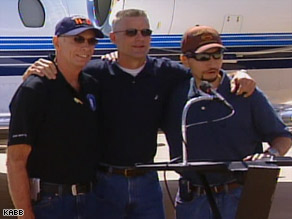 Left to right, Thomas Howes, Keith Stansell and Marc Gonsalves address reporters before flying home Saturday.
Keith Stansell, Marc Gonsalves and Thomas Howes -- hostages of the Revolutionary Armed Forces of Colombia for more than five years -- left the Brooke Army Medical Center in San Antonio, Texas.
"There's family members that are waiting for us, and just imagine if you hadn't seen your family in 5½ years," Stansell said, asking the media to allow the former captives some space. "Let us go home and be family men again."
"We're going to come out and we're going to talk, but right now, what we want to do is rest," Gonsalves said.
All three were headed home to Florida, and Stansell and Howes flashed their new Florida driver's licenses before they boarded a plane.
The three men had been undergoing a reintegration process at the medical center. FARC had held the three U.S. government contractors since February 2003 after their plane went down in a remote region of the South American country.
They and former Colombian presidential candidate Ingrid Betancourt were among 15 hostages rescued on July 2 in a Colombian military operation. The three Americans arrived at Brooke Army Medical Center later that day.
The three Americans urged the media not to forget the hundreds of other hostages still held by FARC.
"Don't forget the people that are still there," Stansell said. "There are fellow hostages that are still there. Some have 10 years [as a hostage]," he said. "Right this minute, they're in chains, looking for food, and they're on the run. And their families haven't seen them in 10 years."
It is estimated that FARC holds some 750 hostages.
Don't Miss
The leftist rebel group took up arms in 1964 and grew from a rag-tag band of 48 fighters to a self-styled "people's army" of more than 21,000 combatants in 2001, according to Colombian government figures.
The government now estimates the FARC fighting force has dwindled to around 8,000 after a wave of desertions.
On Saturday, the rescued Americans talked of looking forward to spending time with their relatives.
"We're going to go home now. We're going to rest, we're going to unwind for about a month and a half," Gonsalves said.
E-mail to a friend

All About FARC