WASHINGTON (CNN) -- Two top Pentagon officials said Wednesday that they expect to be able to recommend troops cuts in Iraq this fall and will try to increase troops in Afghanistan.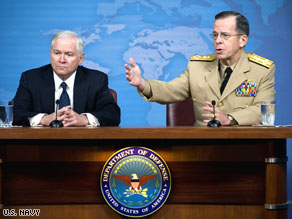 Adm. Mike Mullen, right, and Defense Secretary Robert Gates speak at the Pentagon on Wednesday.
The remarks came after U.S. soldiers were killed Sunday in the deadliest firefight in Afghanistan in recent years.
Secretary of Defense Robert Gates said he had ruled out extending the deployment of U.S. forces in Afghanistan or making tours longer than 15 months, leaving few options other than shifting troops who were destined for Iraq to Afghanistan instead.
"We are clearly working very hard to see if there are opportunities to send additional forces sooner rather than later," he said.
Adm. Mike Mullen, chairman of the Joint Chiefs of Staff, said that improvements he saw on his recent trip to Iraq are the reason he may be able to recommend the troop reduction.
He said there is no pending request for a troop reduction.
The comments about Afghanistan come after nine U.S. soldiers were killed in a Taliban attack on an outpost in eastern Afghanistan.
Up to 200 militants were reported to have been involved in Sunday's attack, which overtook a small U.S.-led observation point but failed to breach the main base near the village of Wanat in Kunar province. Afghan sources said that up to 100 militants were killed in the fighting.
"They were well-trained, well-armed," Mullen said. "It was a significant number, and it was a very complex attack."
It was the deadliest attack on U.S. troops in Afghanistan in three years, underscoring how the conflict is escalating. Since May, U.S. and coalition troop deaths in Afghanistan have exceeded those in Iraq.
This attack pushed the July death toll for U.S. forces in Afghanistan to 15, compared with six in Iraq.
"The enemy in Afghanistan has grown bolder, more sophisticated and more diverse," Mullen said.
"We can and must do better," he said.
In Iraq, the U.S. is withdrawing the last of its five "surge" brigades: those sent to Iraq in 2007 to bolster U.S. forces there.
Mullen said Monday that violence in Iraq was down to its lowest point in four years and that a decision whether to drop the number of troops below the level preceding the surge would come this year.
E-mail to a friend

CNN's Jamie McIntyre contributed to this report.
All About The Pentagon • Iraq • Afghanistan