By Aspen Steib
CNN

VACHERIE, Louisiana (CNN) -- On arrival in New Orleans, our sentiments were the same: Is this really possible?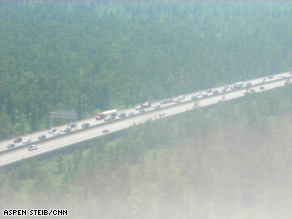 Traffic grows heavy on Interstate 10 leaving New Orleans, ahead of Hurricane Gustav.
The 33 of us flying into the city looked down onto backed-up Interstate 10 and could not help but compare Hurricane Gustav to the billion-dollar catastrophe of Hurricane Katrina. The mere mention of the name makes people cringe.
Almost three years to the day after Katrina ravaged the Gulf Coast, people find themselves on the verge of yet another potentially catastrophic storm. Many are leaving en masse to avoid the wrath that Gustav may have in store.
Granted, most of the folks on my inbound flight were emergency personnel, airline workers and journalists. Only a handful of residents were coming in to board up their houses and then flee or "ride it out," as locals call it when they stay home during the storm.
Louisiana residents are bewildered. Many who stayed for Katrina are refusing to take that chance again. New Orleans is shutting down way ahead of the storm. Mandatory evacuations have been ordered for almost all parishes in the projected path.
Consider this: Hurricane Katrina hit the Louisiana and Mississippi area as a Category 3 storm, and the storm surge was 25 feet at worst. If Hurricane Gustav maintains its projected path, it will make landfall as a Category 4 or 5, more powerful than Katrina.
Mayor Ray Nagin has dubbed Gustav "the mother of all storms." Jefferson Parish officials had only three words of advice at a news conference: "Get out now!"
For those of you riding out the storm, be safe. There are families upon families choosing to stay and take Gustav head-on. Some people criticize that stance, but how many of you leave your homes every time there is a major snowstorm? How many Californians left after the last major earthquake and never came back? That is the point these Louisiana residents are making: This is their home, and their fate lies with it.
One thing is clear. Whether Gulf Coast residents flee or stay, Hurricane Gustav will almost certainly affect the New Orleans area. With the devastation that Katrina left and the damage that Gustav is expected to bring, it leaves hundreds of thousands with the same question on their minds: "Can lighting really strike the same place twice?"
E-mail to a friend

All About New Orleans • Hurricane Katrina • Hurricane Gustav