By Nicole Saidi
CNN
Editor's note: We contacted each of the mentioned avatars to confirm their real-life identities. Within the context of this story, the individuals are referred to by their names in the virtual world as per their preference.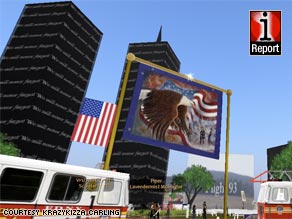 iReporter Krazykizza Carling captured this screenshot of virtual World Trade Center towers in Second Life.
(CNN) -- People around the world who are unable to visit Ground Zero and pay their respects to September 11 victims can still find solace in contacting others through the technological wonders of their home computers. Especially if they're willing to venture into a virtual world.
A series of September 11 memorial events in Second Life, a virtual world run over the Internet, were created to give visitors the ability to connect with others scattered around the country and world.
Second Life is a massive 3-D environment -- a sort of parallel universe that runs on computers -- where people can create a unique identity, buy virtual land and even make and spend money from real life.
Over a 24-hour period on September 11, 2008, a variety of events took place including speeches, victim name readings, memorial dedications and tribute performances.
For some who lost friends or loved ones in the attacks, the memorials serve as a way of visually experiencing and coming to grips with Ground Zero and other sites. Some of the virtual memorials also allow people to talk to each other in real time.
A Second Life iReporter using the name Vickie Maidstone sent updates on several virtual memorials to iReport.com.
"As a former volunteer firefighter, this has really cut through me," Maidstone said.
Maidstone said she wanted to tell the story of the memorials because she feels close to the events of September 11. In real life, she had been driving not far from where the Flight 93 crash occurred in Pennsylvania. She also feels close to the officers and firefighters who served so bravely that day.
She sent an iReport in anticipation of the memorials and even carried a set of virtual bagpipes to help pay tribute to the victims as part of a virtual drum-and-bugle corps.
iReport.com: See Maidstone's overview of the memorial events
"We, the American people who through times of hardships, wars, famines and even in peace time, have never forgotten nor should we ever, the heroes of this great nation, whether in uniform to defend freedom around the world, or in our neighborhoods," Maidstone wrote in her report.
At one of the memorial sites, she stopped to talk to Lavendermist McTeague, who lost her daughter in the September 11 attacks. McTeague said coming to the memorial helps her cope with the circumstances.
"You just do what you have to, and coming here is in memory that [people] will never forget," she said. "We need not to ever forget. It was horrible what [terrorists] did, not because it happened to us, but that it happened and too many lives were affected."
Maggie Barkley, hosting the Wings of Hope location where a memorial was housed, said more than 800 avatars visited that particular site during the preceding month.
iReport.com: See the World Trade Center replica at Wings of Hope
"I know for some they can't go to Ground Zero, but we give them that opportunity here," she said.
A replica of New York's World Trade Center twin towers and firetrucks were placed for visitors. At a stage off to the side, avatars gathered to talk and listen to performances and speeches. People were talking and getting to know one another.
Farther away at a simulation of New York, the mood was somber as avatars sat on evergreen digital grass and listened to the names of victims being read.
Another Second Life iReporter, Delinda Dyrssen, sent iReport stories about the memorials. She was in New York on September 11, 2001, and said taking part in Second Life's memorials brought back recollections of that day.
"Seeing firetrucks in funeral procession, hearing bagpipes play in the streets of New York, it really hit home today," she said. "Honestly I've never forgotten 9/11, but I have forgotten how I felt until today. To me, this was the same as being in New York or Washington at one of the real-world memorial readings."
Dyrssen was on hand to help dedicate a tribute wall celebrating the efforts of firefighters on and after September 11, 2001.
iReport.com: See the virtual replica of New York's Firehouse 10
Melody Regent, one of the memorial event organizers, said September 11, 2001, was a global event, and an international space helps fill the void for those in need.
"Over 90 diferent countries lost people that day," she said. "Families from around the world lost loved ones. Most of those people will never be able to visit the site. Having the memorial in Second Life alows them to visit, to see where the loved one was lost."
After living in New York for six years, Regent said she considers it her home. She feels for the September 11 victims and those left behind.
"If we are able to offer closure to just one person, then we have done some good," she said.
E-mail to a friend