(CNN) -- The venerable Lehman Brothers investment bank said early Monday that it will file for bankruptcy, while Bank of America unveiled plans to buy Merrill Lynch -- two pieces of news that profoundly alter the American financial landscape.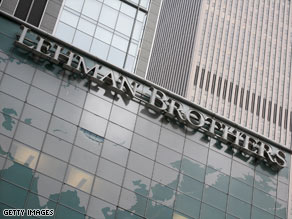 The value of Lehman Brothers shares declined 94 percent in the past year.
The fast-paced changes capped a roller-coaster Wall Street weekend and threatened to stir up U.S. financial markets already reeling from woes at other major financial firms and mortgage financing titans Fannie Mae and Freddie Mac.
"This crisis is clearly deeper than anybody had imagined only a short time ago," Peter Stein, an associate editor at The Wall Street Journal in Asia, told CNN.
Lehman Brothers said in a statement early Monday that it plans to file for bankruptcy under Chapter 11 of the U.S. Bankruptcy Code. The 158-year-old investment bank had been undermined by bad bets on real estate -- the value of its shares declined 94 percent this year.
The fall of Lehman followed a wild, three-day scramble by top Wall Street executives and federal regulators, who worked around the clock to come up with a solution to a still-unfolding financial crisis.

Watch how subprime crisis is changing Wall Street »
By the end of the weekend, the Federal Reserve had stepped in to try to calm the markets by announcing plans to loosen its lending restrictions on the banking industry. iReport.com: Are you feeling the pinch?
A consortium of 10 leading domestic and foreign banks agreed to create a $70 billion fund for loans to troubled financial firms.
Yet the last-minute efforts provided little comfort to financial markets around the globe.
The Dow Jones industrial average plunged more than 2.5 percent just after the opening bell on Monday, before paring some of those losses.
That nervousness also spread to the currency markets as the dollar slipped in value against both the euro and the yen.

See some other recent financial woes »
The $50 billion Bank of America-Merrill Lynch deal -- announced in the wee hours Monday by Bank of America -- could help temper a market sell-off, said Dan Alpert, managing director of the New York City-based investment bank Westwood Capital.
"This sort of offsets the Lehman thing," he said, "but the reality is that it is just a short-term impact."
Stein agreed.
"On the one hand, the news about Merrill may be seen as a positive; Lehman, definitely a negative," he said.
Bank of America plans to buy Merrill Lynch in an all-stock $50 billion deal, pending approval by federal regulators and shareholders of both companies, the bank said in a statement. The transaction is expected to close in the first three months of 2009.
Bank of America had been considered a possible buyer of Lehman, but those talks had broken off by Sunday afternoon.
The acquisition of Merrill Lynch makes sense, said Ken Lewis, Bank of America's chairman and chief executive officer.
"Acquiring one of the premier wealth management, capital markets and advisory companies is a great opportunity for our shareholders," he said in a statement. "Together our companies are more valuable because of the synergies in our businesses."
Like Lehman, Merrill Lynch has suffered from bad real estate bets. Its stock price lost 27 percent last week, and shares are down 65 percent this year. Merrill has posted net losses of more than $17 billion over the past four quarters.
"The Merrill deal addresses what the market fears most right now -- a flood of assets hitting the market," Alpert said.
The deal will create "a company unrivaled in its breadth of financial services and global reach," Bank of America said.
"By adding Merrill Lynch's more than 16,000 financial advisers, Bank of America would have the largest brokerage in the world, with more than 20,000 advisers and $2.5 trillion in client assets," the bank said.
Asian financial markets were closed Monday, but European markets took a hit in early trading. The FTSE index in London declined 2.8 percent, while the Paris CAC 40 was down 3.5 percent.
The dramatic developments come after problems at several financial giants in the last year.
In March, the U.S. government helped bail out the investment bank Bear Stearns, which J.P. Morgan Chase & Co. then bought.
This month, the U.S. government took over mortgage finance companies Fannie Mae and Freddie Mac. That was Washington's most dramatic attempt yet to shore up the nation's faltering housing market, which is suffering from record foreclosures and falling prices. That plan calls for the government to run Fannie and Freddie until they are on stronger footing.
Meanwhile, American International Group, the nation's largest insurer, plans to unveil a restructuring plan as soon as Monday morning, The Wall Street Journal reported Sunday.
The plan will include selling off part of its business to raise cash and boost investors' confidence, the newspaper reported.
E-mail to a friend

David Ellis of CNNMoney.com contributed to this report.
All About Lehman Brothers Inc. • Merrill Lynch & Co. Inc. • Bank of America Corporation