In our Behind the Scenes series, CNN correspondents share their experiences in covering news and analyze the stories behind the events. CNN's Chris Lawrence uncovers the challenges facing high school students in Los Angeles, as part of the weeklong "Broken Schools" series airing this week on CNN's American Morning, weekdays at 6 a.m. ET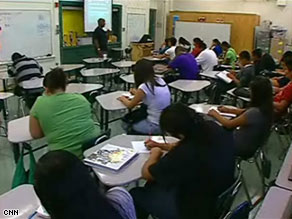 At L.A.'s Jefferson High School nearly 75 percent of the parents of students did not finish high school.
LOS ANGELES, California (CNN) -- It's the first week of their freshman year and four girls are gossiping outside of Jefferson High School as they wait for the bell to head inside.
If the numbers stay true, only one or two of them will graduate from high school. One of the girls, Ana Rosa Gutierrez, already says she doesn't like school. She calls it boring and says, "School doesn't give you money. You have to go ... drop out to go work and get money to support your family."
Ana Rosa is 13 years old.
I ask her if she's known anyone who left school. But I should have asked her if she's known anyone who stayed.
"Most of my brother's friends dropped out. My brother dropped out because we needed money, he got a job," says Ana Rosa.
"How old was he," I ask.
"I think, 16," she replies.
We listen to teachers take attendance during first period and look at all the empty seats in the classroom.
"Louis Romero? Louis? He's absent," the teacher remarks.
That's not unusual at Jefferson High School, where 58 percent of students, nearly six out of 10 students, drop out.

See why the school's dropout rate is so high »
"I'm not proud of having the highest dropout rate in the system," says Principal Juan Flecha.
But there are many factors beyond his control. The families are for the most part poor. Many are held together by single mothers who don't have much money. So there's pressure in homes like Ana Rosa's for teens to get a job and help the family.
Broken Schools
All this week in our "Broken Schools" series, we're taking you inside America's classrooms to get a first-hand look at the challenges facing your kids.
Weekdays, starting at 6 a.m. ET
But it's much deeper than that.
The school is located in an area of Los Angeles where new immigrants settle, mostly from Mexico and Central America. About half of the students are learning English as a second language and it's not often reinforced at home.
Jefferson has extended the school day to increase time spent on language arts, but Superintendent David Brewer asks, "How do you teach a child to not only learn a language, but master the language to the extent they can learn algebra? And learn Shakespeare?"
Nearly 75 percent of the parents of Jefferson High students did not graduate from high school. So there's no history of education to draw from. Still, the school is trying to hold parents accountable by working with the city attorney's "Operation Bright Future," a school truancy and gang prevention program.
"If their students are absent a lot, then the city attorney goes to the parents and says 'Listen if you don't get your kids in school then you could be in jail,' " says Brewer.
You can't separate the school from its neighborhood. Jefferson had to be locked down on the first day of school after there was a shooting just a half-block away. Students like Ana Rosa have to adopt an almost military mind-set just to get here, devising strategic routes through gang territory.
"One of the sad things is ... there are certain blocks where they know that it's just not safe to go through there," says Flecha. "And, they have to establish a very elaborate pathway from home to school."
There are signs of hope.
In 2005, only half of the seniors passed the graduation exam. Last year, nearly three out of four students passed. Jefferson has beefed up security inside the school and has created a program that allows students choose their own track: teacher preparation, global leadership, business or creative arts.
So-called "dropout advisors" have increased home visits to students who have stopped coming to class. Jefferson recently qualified for nearly $2 million in state funds and it plans to hire 10 new teachers and a psychiatric social worker.
But will it be enough to keep students like Ana Rosa, who doesn't see school as anything that can make her life better?
As she walks through the front door of Jefferson, I ask her if she thinks she'll stay.
"Hopefully. Hopefully, I will. I don't know," she responds.
"But you're not sure," I prod.
"I'm not sure," she says.
E-mail to a friend

All About Education • High School Education • Los Angeles