By Brad Lendon
CNN

(CNN) -- Araceli Garcia's quarter-mile trip to the grocery store Tuesday morning took 2 ½ hours. She came away with $72 worth of food from the H-E-B supermarket and considers herself blessed.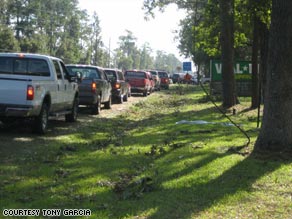 Motorists line up for fuel at a Wal-Mart gas station in Humble, Texas, on Tuesday morning.
"I got my eggs," the 32-year-old Humble, Texas, resident said. "I don't know how they're doing it."
In the aftermath of Hurricane Ike, the supermarket was letting in just 20 people at a time, she said, and the long wait didn't annoy customers just happy to have a place to buy basic needs. Of Kroger, Target and Wal-Mart near her home, Garcia said, only H-E-B was fully functional.
"H-E-B is going to be the hero of the day," Garcia said.
The company said on its Web site it had brought in 500 employees from across Texas to get its Houston area stores up and running. iReport.com: Long lines at the H-E-B
Garcia and her husband, Tony, count themselves among the most fortunate people in south Texas in the wake of the Category 2 hurricane. In their subdivision in Humble, 20 miles north of Houston, they have power, they have water and they have relatives, friends and neighbors whom they can help.

Watch how Texans are recovering from Ike »
The Garcias took in 32 relatives from Anahuac -- on Galveston Bay 45 miles east of Houston -- at the height of the hurricane, which roared in from the Gulf of Mexico early Saturday, swamping entire communities with its storm surge and knocking out power to millions of people with its 110-mph winds. The relatives' homes still stand, but they have little else -- power and water are out and septic systems are inoperable.

See before-and-after photos of Galveston's devastated coast. »
And with most of the relatives holding down hourly jobs at nearby Baytown refineries that have not opened since the storm, the lack of a paycheck could soon become a problem, too, Araceli Garcia said. "They really feel the pinch," she said. iReport.com: Are you cleaning up after Ike?
The relatives are using a generator to boil water for drinking and hygiene needs, she said, "but the scary part is finding fuel for the generator."
Just getting fuel in the Houston area can be an all-day ordeal. Tony Garcia said his niece, a high school senior, waited 12 hours in a gas line on Monday -- 6 a.m. to 6 p.m. -- only to be told a tanker wouldn't be coming that day to supply the station. And with Chambers County knocked off the electrical grid, no fuel means the generator won't be running. So no hot meals and not even boiled water for drinking.
"It just shows how vulnerable we are," Araceli Garcia said.
The Garcias' neighbor, Steve McEndree, saw cars lined up for a mile or more by gas stations as he made the drive from his Humble home to George Bush Houston Intercontinental Airport before dawn Tuesday.
"People are lined up as far you can see in anticipation of power or gas," McEndree, 49, said.

Watch how gas lines become the norm in south Texas »
He filled his Suzuki XL7 SUV before Ike hit early Saturday. He said he'll be able to make the trip to work for the rest of the week, but if gasoline supplies are still restricted come next week, working might not be possible. "I can't exactly walk," he said of his half-hour commute.
But he, too, finds himself fortunate. Most of his coworkers at ExpressJet, which he said was staffed at full-strength on Tuesday, don't have power.
"Many people don't even have the basic needs," McEndree said.
Tony Garcia said he's worried the search for those needs could mean trouble the longer power and water remain out. He saw people he didn't recognize filling water tanks from his neighbors' outdoor hoses. And he was suspicious they did it without permission.
"That was a bad sign," he said.
But the Garcias aren't dwelling on potential problems. They prefer to highlight how neighbors are helping each other.
"It's been a neighborhood effort," Araceli Garcia said of the post-storm cleanup effort. Folks brought out chainsaws to clear downed trees and pitched in to gather up debris.
Greg Hassell, of Bellaire, eight miles southwest of Houston, said people with power or supplies were helping those without -- a spirit perhaps aided by the storm literally removing some dividers. "Your fence is gone," Hassell said.
"My neighbor let me borrow a cord from his generator to run the refrigerator," he said. And then Monday, when he had power back, people still in the dark came to his house to watch "Monday Night Football."
Hassell, a spokesman for JP Morgan Chase in Texas, said the bank's 6,000 employees in the area were being asked to come to work if they could.
Hassell said 50 bank branches out of 140 in the Houston area were open Tuesday morning -- up from 33 on Monday -- with work continuing to open more.
"We are running at a pretty strong clip right now," he said.
"We are out there to help customers and they want cash -- debit cards aren't working everywhere, some places you need cash," Hassell said.
One thing that has barely affected the banking company is the damage to the JP Morgan Chase Tower downtown where scores of windows were blown out by Ike.
The company moved operations out of the tower in October 2006, though it still runs a branch there and that is closed.
Elsewhere in downtown Houston, "the situation is returning to normal," the city said in a press release.
"Crews have been working to clear roads through the downtown Houston area, and most streets are passable now. A few streets are blocked because of glass and debris, but routes are cleared around them," the city said. "Businesses are gradually re-opening."

Watch National Guard distribute relief supplies »
Schools, however, were closed Tuesday and some may be out indefinitely.
Araceli Garcia, assistant principal at a high school, has been told to plan on coming back to work late this week or early next. Tony Garcia, a teacher at an elementary school will be able to take their 5-year-old daughter to classes in his school when its classes resume.
Despite the problems that Hurricane Ike brought, Houston area residents say they're thankful to Mother Nature for one thing this week -- cool weather.
It was about 65 degrees Tuesday morning, Tony Garcia said, down from 100 degrees before the storm. Even those without power can stay indoors and away from the bugs.
"We really lucked out," Tony Garcia said. "The mosquitoes were getting pretty hungry."
E-mail to a friend

CNN's Rachel Clarke contributed to this report.
All About Hurricanes and Cyclones • Weather • Texas