By Jason Hanna
CNN

(CNN) -- Come for the vanilla latte. Stay to find someone who can help you haul that fallen tree from your yard.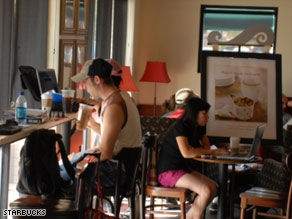 Internet access is one luxury Starbucks could afford Houston-area residents in the days after Hurricane Ike.
As people in the Houston area struggle with widespread power outages and shortages of necessities days after Hurricane Ike, some are finding comfort, information and community at coffee shops that have managed to reopen.
Java was flowing Wednesday at nearly half of the Houston area's 150 Starbucks locations. Perhaps just as welcome to weary residents: So were ideas about how they could give or receive a helping hand.
"People will be drinking their coffee, and they'll be talking about clearing out their front lawn [of debris]. Someone will say, 'I know someone who can take care of that,' " Amy Christensen, a Houston-based director of business operations for Starbucks, said Wednesday.
Christensen, who visited several Houston-area Starbucks stores that have reopened after Ike, said the air-conditioned shops have been a place of refuge especially for people without power at their own homes. Only the stores with power and water service have been allowed to reopen, and they've been busy, she said. iReport.com: Houston resident documents shelter
With many schools and businesses closed for the week, open coffee stores have been a natural gathering spot where people could talk about the storm and its aftermath, Christensen said.
"I see customers sitting around ... and talking about what went on in their house [when Hurricane Ike hit Saturday morning]," she said. "It's a gathering place. When they find their local stores open, they want to come in and talk to their neighbors and the barista behind the counter."
Ike knocked out power for more than 2.4 million utility customers in Texas. By Wednesday, Houston's main electricity provider, CenterPoint Energy Inc., reported that power had been restored to almost 800,000 customers.

See before-and-after photos of nearby Galveston, Texas, coast »
Some of the open Starbucks stores have been able to offer Wi-Fi Internet access -- attracting many laptop computer owners who couldn't get access elsewhere, Christensen said.
Starbucks employees, too, have found relief at the stores.
Rusty Delk, who is managing two Starbucks stores, informed his workers by text message that they could -- but didn't have to -- work when the shops reopened. He knew some had left Houston ahead of Ike, and he didn't know who had returned.
They all wanted to work, it turned out. One store reopened Tuesday, the other Wednesday. The stores' staffs have been larger than normal, having temporarily adopted workers from locations that had yet to open.
"They wanted to see each other. They wanted to see our customers that they see every single day," Delk said.
Delk said he's seen people sharing information about things such as where to find milk and eggs and a spare generator.
"There's always been a good rapport between [the employees] and the customers. But ... for the last couple of days, [the customers] have been talking to each other a lot more," he said. "People who were in lines together three or four days a week and never said hello to each other are now introducing themselves and asking how they're doing.
"They're opening up to each other: 'Do you have water? Are you OK? How's your family?' "
Christensen said Starbucks' priority after the storm was to check on its employees, and stores opened only after their workers were accounted for.
She said some employees have reported damage to their homes. But as of Wednesday, all Houston-area Starbucks workers were known to be OK, she said.
Christensen's own Harris County home has been without power since Ike hit. But she has had reliable water service since Monday, and the natural gas that heats the water and powers her stove wasn't interrupted.
Despite inconveniences at home, including a tree that fell on a fence, Christensen is going about her Starbucks duties. A question from a fellow Starbucks employee during recent a conference call brought some levity.
"Someone asked, 'Can you have a shower?' " Christensen said. "I said, 'Well, I don't know half of you on the conference call, but you'll be happy to know that, yes, I can take a shower and I'm clean.' "
E-mail to a friend

All About Starbucks Corporation • Harris County • Natural Disasters