By John Zarrella
CNN's "American Morning"
DOTHAN, Alabama (CNN) -- Given the stereotype of the Deep South as the Bible Belt, Rabbi Lynne Goldsmith's glowing, Chamber of Commerce-like endorsement of Dothan, Alabama, is not what you might expect to hear.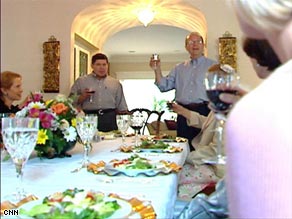 Larry Blumberg put up $1 million to help relocate 20 young Jewish families to Dothan, Alabama.
"If you need a robust Orthodox community, we don't have it," Goldsmith said. "But if you want a community where your neighbors are friendly; where people smile at you in the grocery store even if they don't know you, then Dothan's for you."
There's a reason Goldsmith, who has been in the city a year, is encouraging people to relocate: She'd like to see more Jews in Dothan.
The city of 60,000 sits in the southeastern corner of Alabama, near the state's borders with Georgia and Florida.
The Jewish community in Dothan was never one that would wow anyone with its size. At its height, about 100 families worshipped at Temple Emanu-El. Today, temple membership is about half that number.
As the faithful arrived on a recent Friday for 7 p.m. services, it was evident that there are not very many members, and most are older. The congregation recently decided that it needed to bring in some younger families, and they felt they had to do it with flair.
"We felt like it needed to be something that had enough sizzle that would get attention, and it really has," temple member Larry Blumberg said.
Blumberg put up $1 million to help relocate 20 young Jewish families to Dothan. The congregation took out ads in Jewish newspapers offering up to $50,000 per family.
Rob Goldsmith, the rabbi's husband, is director of the relocation project. He says the response has been beyond expectation.
"American Morning"
CNN's John Zarrella finds out how the Jewish community in Dothan, Alabama, is recruiting Jewish families on "American Morning."
Thursday, starting at 6 a.m. ET
"We've had 275,000 hits on our Web site, several hundred phone calls and e-mails. We've really gotten the attention," Rob Goldsmith said.
Interest in the program has come from as far away as China, Cuba, South America, Israel and all over Europe. The group's Web address is http://www.bfjcs.org/.
Out of all the Web site hits and e-mail inquires, Rob Goldsmith says, only about 25 are "promising." For many of applicants, their incomes were too high. Others were from outside the U.S. or -- for one reason or another -- their inquiries were not taken seriously.
To qualify, there are some strict criteria. Besides being a Jewish family with children, candidates will have to sign a five-year agreement and pass criminal background and credit checks.
Net assets can't exceed $100,000, and according to Rob Goldsmith, people won't just be handed a check for $50,000. The money must be used to cover housing and relocation costs, as seed money to start a business or on education expenses for children. Depending upon need, it may add up to something less than $50,000.
The Jews in Dothan have no problem using dollars as an incentive, says Lynne Goldsmith. "We don't want to die."
Rob Goldsmith says small southern towns are rapidly losing their young Jewish populations as young people go off to college and don't come back.
"We need to, like so many small towns, reinvigorate and not close and lock the doors like so many Jewish communities in the South," he said. "It's not gonna happen here."
Dothan prides itself on being progressive and different from the stereotype of the Deep South city.
"There's ignorance everywhere. There's ignorance in Dothan," Mayor Pat Thomas said. "But ... you have a great community here, and you have a community that's open to all faiths. And I think that's a great strength."
The Jewish families say the city practices not just religious tolerance but religious acceptance.
"Being a Jew living in Dothan for 20 years, I have never experienced any anti-Semitism," said Daryl Shapiro, who moved here after graduating from Auburn University.
Dr. Marty Margolies and his wife, Abbie, moved to Dothan more than 30 years ago from New York. Preconceived notions of the South are just wrong, he says.
"We had apprehension when we came," Shapiro added. "This turned out to be a wonderful community, as are most of the communities in the South we've been in. And all those preconceptions just evaporated."
The Jewish community is hoping to move four families a year to Dothan over the next five years. Members hope the first two families will be living there by Hanukkah, in December.
Margolies believes that it's a wonderful opportunity.
"You have to open your eyes. You have to look. You have to be a little adventuresome, and I don't think you'll be disappointed. I haven't been," he said.
E-mail to a friend

All About Judaism • Christianity • Alabama