WASHINGTON (CNN) -- Two Maryland State Police personnel, a medical technician and a teenager were killed when a medical evacuation helicopter crashed Sunday in suburban Maryland, police said.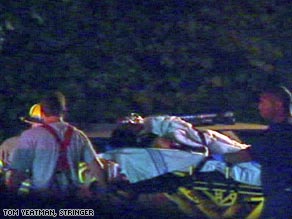 Paramedics carry one of the passengers on a gurney after the Saturday night helicopter crash.
The Maryland State Police helicopter crashed early Sunday morning, killing four of the five people on board, said Col. Terrence Sheridan, superintendent of the Maryland State Police.
The state police identified those killed as: pilot Stephen Bunker, a retired trooper; Trooper 1st Class Mickey Lippy, who was acting as flight paramedic; Tanya Mallard, an emergency medical technician with the Waldorf, Maryland, Rescue Squad; and patient Ashley Younger, 17.
Patient Jordan Wells, 18, survived the crash, according to state police. She was at a hospital in critical condition, Sheridan said.
Federal and state authorities were trying to determine what caused the crash, Sheridan said.
The helicopter was on its way to Prince George's Hospital with Younger and Wells, who had been critically injured in a Charles County, Maryland, car crash. The helicopter went down in a wooded area on a park trail in the Capitol Heights/Ritchie communities, Sheridan said.
Sheridan characterized the crash as the worst in the history of the police department.
"This is a devastating tragedy," he said. "We have had crashes before but never with four dead. This is the worst."
The pilot radioed that he was going back to Andrews Air Force Base to avoid bad weather just before midnight, Brady said. Two ambulances were sent to Andrews to meet the helicopter and carry the patients to the trauma center.
But radio contact with the helicopter was lost and the wreckage was found after a two-hour search, authorities said.
E-mail to a friend

All About Prince George's County