(CNN) -- The Dallas, Texas, school district laid off hundreds of teachers Thursday to avoid a projected $84 million deficit.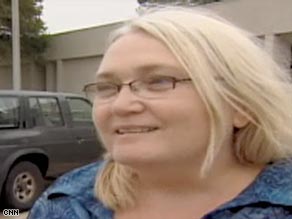 Second-grade teacher Sandy Keaton says her students lose with the Dallas schools job cuts.
"Today is a day of tremendous sadness throughout the district," Dallas Independent School District Superintendent Michael Hinojosa said in a written statement.
"These teachers and counselors are people who devoted themselves to helping Dallas students, and we will do everything within our power to help them find new jobs."
The district laid off 375 teachers and 40 counselors and assistant principals Thursday, and transferred 460 teachers to other schools within the district.
The deficit was caused by a massive miscalculation in the budget, CNN affiliate WFAA-TV reported.
Children, one crying, crowded Thursday around Mary Crose, a music teacher at San Jacinto Elementary School.
"I've had them since they were in kindergarten," she told The Dallas Morning News, as she wrapped her arms around two of the children. "We've been through a lot at our school, and it's going to be so hard. We need the prayers and support of everyone in Dallas."
"Why do you have to leave?" a girl wailed, through her tears.
"I've been looking at some of the notes they've already written," Crose said, unfolding several pieces of notebook paper. A pink heart had been drawn on one. Words were scrawled on others in crayon.
"My kids are going to lose out because I'm a very good teacher, and so they're going to lose out because they won't have me," a tearful Sandy Keaton, a second-grade teacher at San Jacinto Elementary, told WFAA.

Watch teacher's tearful lament »
The 375 teachers represent about 3 percent of the district's more than 11,500 teachers. Last week, 152 employees -- including clerks, office managers and teacher assistants -- voluntarily left their jobs, the district said. On September 29, 62 central staff members lost their jobs.
Voluntarily resignations and transfers spared 88 jobs, WFAA reported.
The district estimates that the job cuts and unfilled vacancies will save $30 million. An additional $38 million will be saved by cutting various programs throughout the district.
The Dallas Independent School District is the nation's 12th largest, with more than 160,000 students.
"The children are going to suffer," Karina Colon, a prekindergarten bilingual teacher at San Jacinto Elementary, told The Dallas Morning News.
Colon kept her job, but was crying for her colleagues. "I should feel happy," she said.
The Dallas Independent School District will hold a job fair Tuesday for all employees who were given notice. More than 110 employers will attend the fair, which was put together by the district, the United Way and the Dallas Regional Chamber.
E-mail to a friend

All About Dallas • Education • Education Issues