From Terry Frieden
CNN Washington Bureau

WASHINGTON (CNN) -- Attorneys for 17 Chinese Muslims being held at Guantanamo Bay asked that all 12 judges of the D.C. Circuit Court of Appeals consider their request that the detainees be freed pending their legal fate.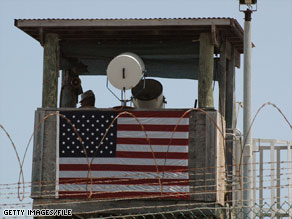 A guard looks from a tower at the military facility at Guantanamo Bay, Cuba.
A three-judge panel of the court ruled against them Monday evening.
The moves on Tuesday are the latest in a high-profile battle over whether the Muslims, known as Uighurs, can be set free in the United States by the courts over the objections of the executive branch. They have been in U.S. custody for seven years and were arrested during the opening campaign of the U.S.-led war in Afghanistan, where U.S. officials say they received weapons training.
Although U.S. authorities have determined the 17 men are no longer enemy combatants, they have not been released because of a fear they would be abused or tortured if they were handed over the Chinese government. Despite extensive diplomatic efforts, no other government has agreed to take them.
In their filing to the full appeals court, the detainees' lawyers said "no harm will come to the public and certainly no irreparable harm to the government" should the prisoners be set free.
The three-judge panel's ruling "means, conservatively, three more months of imprisonment at Guantanamo," the attorneys argued. They said a decision on the detainees long-term fate is unlikely before January. In addition, the Uighurs have not been informed of the latest court action, their lawyers said; an attorney will be allowed to visit them in 10 days and inform them.
The three-judge panel's ruling granted the Bush administration's request to stay a district judge's order that the detainees be released while the case is under way.
"We're pleased the court has granted our motion for a stay pending the appeal, and we look forward to presenting our arguments before the Court of Appeals," said Justice Department spokesman Brian Roehrkasse.
The court set arguments in the case for November 24.
Judges Karen Henderson and A. Raymond Randolph said the government had met the burden required to grant the stay.
In a lengthy dissent, Judge Judith Rogers said there would be no "irreparable harm" to the government in releasing the detainees.
The U.S. government insists it is legally prevented from allowing them into the United States.
The Uighurs came within two days of freedom in the United States when U.S. District Judge Ricardo Urbina on October 10 ordered U.S. authorities to transport the detainees from Guantanamo Bay to his Washington courtroom, where he would free them. However, the government promptly won an emergency stay to block the ruling and has now won a longer stay.
E-mail to a friend

All About Guantanamo Bay • Afghanistan • China