By Emmanuel Tambakakis
CNN

(CNN) -- Until recently, Navy veteran Joe O'Boyle had no home.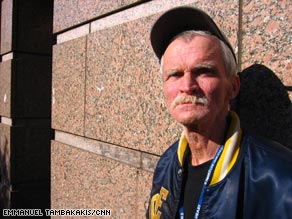 Joe O'Boyle found a home with the help of Pathways to Housing, a New York-based nonprofit.
For 15 years, he was a nomad wandering the streets of his native New York before he got help from Pathways to Housing, a nonprofit organization.
O'Boyle spent two of his homeless years underground, riding the trains of the city's subway system.
"I had nothing to do, so I rode the trains. I got to know the whole subway system like the back of my hand," O'Boyle said. "The E train used to end at the World Trade Center. That was the best train to ride in the winter, you know; it didn't go out into the open."

Watch O'Boyle talk about his life on the street »
O'Boyle was just one of about 154,000 veterans who call the streets home. Some find help through the Department of Veterans Affairs, which has approved funding for about 15,000 beds this year in transitional housing programs and provides approximately 5,000 veterans each year with residential services in VA hospital-based programs.
This leaves up to 134,000 veterans to fend for themselves. Private and nonprofit organizations, including New York-based Pathways to Housing, step in where the VA leaves off.
Psychologist Sam Tsemberis, Pathways' founder and executive director, acknowledges the work the VA does but says nongovernmental organizations are essential to "take up the slack." He estimates that veterans make up 20 percent of his clients, or about 125 of the 650 people the organization is currently housing, which reflects the national average of homeless veterans to nonveteran homeless.
"People who were mentally ill, living on the streets of the city in an intolerable unbearable condition" prompted Tsemberis to start Pathways.
The Pathways to Housing model is called "housing first." The approach makes housing a top priority, even in treating homeless who have psychiatric disabilities and addiction. More traditional organizations require a person to be sober and stable before giving them their own place to live. This usually requires an uphill battle of up to two years of living in a shelter and meeting a number of requirements.
Tsemberis believes that putting his clients in a place of their own is paramount in achieving success with their counseling and stabilization, as is the case with O'Boyle.
"You have to separate the treatment needs from the housing needs, which is what we were able to do for him. Give him a place to live so that he can feel safe and secure first, and then he's interested in helping himself with his psychiatric or addiction issues, employment issues. All of the issues follow the security of housing."
Pathways has a branch in Washington as well as a newly opened branch in Philadelphia, Pennsylvania. Tsemberis says he's been contacted by a number of other organizations, such as Horizon House in Philadelphia and Coalition for the Homeless in Denver, to discuss the successful Pathways model that is helping O'Boyle.
"Joe represents in a way the challenge of, how do we house people? How do we house homeless vets when they have multiple problems? We have to get the sequence right. When the sequence requires treatment sobriety prior to housing, most vets will not, cannot manage that," Tsemberis said.
Tsemberis says veterans' perspectives played a key role in the ideological creation of Pathways to Housing.
"They had already served their country, so jumping through hoops was not really something they were willing to put themselves through and would really accept housing on their own terms," he said.
"They felt that they had done their part and that someone should help them in the way that they deserved to be helped. And we agreed with that."
Pathways clients typically receive about $20,000 in rent and services which include mental health, addiction, health, employment and peer support. Tsemberis says that figure is half the amount a homeless person usually costs the system.
The money comes from federal, state and some city funds, and clients have to meet standard lease obligations, such as paying 30 percent of income toward rent. Rental rates on apartments are fair market, with a studio usually going for about $750 a month.
After he was referred to Pathways, O'Boyle was placed in an apartment in Brooklyn within walking distance of the organization's office.
He now believes that after a very dismal past, he has a future to look forward to and is considering writing a book about his experiences on the street. Although currently unemployed and looking for work, O'Boyle says he's never been happier.
"Lately ever since I got my apartment, I feel like I could do anything. Every day is a good day for me. I never felt like this in my life. For the first time in my life, I'm happy," O'Boyle said.
As for the future of the homeless and homeless vets, Tsemberis feels that it's a matter of political will and financial commitment.
"It's not like we don't know how to do this. We know how to fix this problem. It's just a matter of putting the resources in place to do it."
E-mail to a friend

All About Veterans' Affairs