ATLANTA, Georgia (CNN) -- The NAACP in Georgia is calling for the state attorney general's office to investigate a county board after it voted to move about 300 African-American graves from a site that will be used to expand a landfill.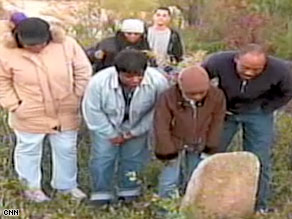 Visitors observe a gravestone at the Union Bethel A.M.E. cemetery, which could be the future site of a landfill.
The Clayton County Board of Commissioners voted Tuesday to allow the graves in Union Bethel A.M.E. Church Cemetery to be moved to a graveyard in nearby Riverdale, a suburb south of Atlanta.
After the graves are moved, the land will be used to expand a debris landfill that surrounds the Union Bethel cemetery.
The NAACP in Georgia alleges the five county commissioners accepted campaign contributions from the construction and recycling company, Stephens MDS LP, which is seeking to expand its landfill.
"We want the attorney general's office to investigate to see whether a crime was committed," said Edward DuBose, president of the NAACP in Georgia.
"All of the commissioners received political campaign donations; we think they were not in the best position to make that decision," he said.
The cemetery, adjacent to Hartsfield-Jackson International Airport, dates back to the 1850s and may include slaves. It has become overrun with brush after not being used for several decades. Sinking holes and a lone tombstone showing a 1908 burial are the only indications it is a cemetery.

Watch CNN's Rick Sanchez report on cemetery »
Stephens MDS said it made political donations, but not to gain approval for removing the graves.
CNN reached out to all the commissioners for a response, but received only a statement from Chairman Eldrin Bell, who said he disclosed receiving money.
"I took a responsible, ethical, position and disclosed that I received money. I have abided by the law in ensuring I disclosed that information early on," he said.
CNN affiliate WSB reported earlier this week that Bell said he had made his decision in the "best interests" of the county "after weighing all of these matters very carefully."
But the NAACP contends not enough consideration was given to those in the graveyard.
"These were people who were not treated as humans in life, and even in their final resting place we see that they are treated worse than second-class citizens," DuBose said.
"This is a historic slave grave. This is our history and our family history," said Dexter Matthews, a county NAACP leader. "And we don't want people digging it up for money, digging it up for trash."
Vera Ward, 68, said she wants the spot preserved, even if it is surrounded by a landfill.
"I believe all my ancestors, my great-grandfather's people, were there. They were slaves, and they was buried there," she said.
Stephens MDS contends it has not disturbed a single grave, and said it is putting the graves in a more accessible location.
"You have to approach this like it's your own family," said Wade Brannon, of the company. "How would I want somebody that's my descendant that was in a location like this handled?"
E-mail to a friend

CNN's Ed Lavandera contributed to this report.
All About NAACP • Clayton County