From Christine Theodorou
CNN
ATLANTA, Georgia (CNN) -- It was just a chance to get his feet wet, but Olympian Eric Shanteau managed to surprise himself.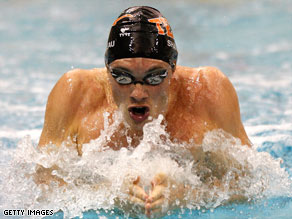 Eric Shanteau swims Friday, December 5, in the Short Course Nationals in Atlanta, Georgia.
Shanteau returned to competitive swimming over the weekend for the first time since he was treated for testicular cancer. He kicked off the U.S. Short Course Nationals in Atlanta with the men's 200-yard individual medley, clocking 1:42.59 -- a personal best, finishing second to Ryan Lochte, who holds the American record.
Shanteau finished the men's 100-yard breaststroke in 53.07, ahead of the 53.81 he clocked in last year's Short Course Nationals.
Not bad after just a few weeks of training, little rest and no shave.
"For me to go the times I just did is pretty incredible," Shanteau told CNN.
The 25-year-old Georgia native drew international attention before the Beijing Games in China when he postponed treatment so he could compete in the Olympics. There, he swam a personal best in the 200 meter breaststroke on August 13, finding cancer to be strong motivation, but he did not qualify for the finals.
Just a week later he returned to the United States, where he had surgery August 26 in Atlanta to remove the cancer. Tests revealed that most of the cancer was successfully removed and that he would not need chemotherapy.
He returned to the water with renewed determination three weeks later, an ambitious feat with a painful ending.
"That didn't work out so well," Shanteau told CNN. "I pushed off the wall the first time and I felt everything stretching in my abs, so I got right back out and my coach said to give it another week."
Six more weeks of intense training and he showed up at the Short Course Nationals, his first competition since Beijing and surgery.
"This experience gave me a very different and new perspective on life -- it's a good one," Shanteau said. "As traumatic as cancer can be, there's a lot of good that you can take out of it. Appreciate the small things."
He's been compared to Lance Armstrong, the world-renowned cyclist who was diagnosed at 25 with advanced testicular cancer. Armstrong beat the disease before going on to winning the Tour de France a record seven times.
"We talked a couple times, shared stories and got to know each other a little bit and that's obviously very cool to me," Shanteau said. "I looked up to Lance way, way before I had a similar experience."
Shanteau is involved with Armstrong's Livestrong Foundation and credits it for much of the support he has received.
"Outside the pool, as far as cancer relates, I couldn't find a better group of people to be helping me out with all this," he said.
Testicular cancer is diagnosed in about 1 in 300 men in their lifetime. It is the most common form of cancer for 15- to 34-year-olds, and one of the most curable if discovered early. Nearly 140,000 men in the United States are testicular cancer survivors.
Shanteau said cancer often preoccupied him at the Beijing Games, but that he stayed focused once he got up on the blocks.
"It didn't affect any of my racing in Beijing," Shanteau said. "It was more exhausting that it was on my mind all the time."
Is he aiming for the 2012 London Olympics?
"It's too far out right now," Shanteau said, "but it's definitely not out of the question."
He prefers to take a day-by-day approach to the sport, with his focus centered on each event -- for now, that's the 2009 World Swimming Championship in Rome, Italy.
"After that we'll look to the next one and when you do that sooner or later, four years rolls around and London will be here in no time," he said.
E-mail to a friend

All About Eric Shanteau • Summer Olympics • Competitive Swimming • Cancer • Testicular Cancer