(CNN) -- Three Guantanamo Bay prisoners were released to their families Tuesday, becoming the first detainees to be sent home as a result of a U.S. court ruling.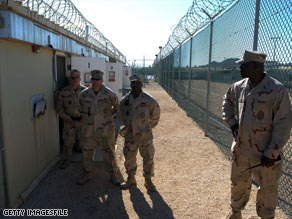 Three men have become the first detainees released from Guantanamo Bay after a court ruling.
The Algerian men, Mustafa Ait Idir, Hadj Boudella and Mohamed Nechla, returned to Bosnia and Herzegovina, one month after a federal judge ruled the U.S. government had failed to prove they were "enemy combatants," as federal prosecutors alleged.
"Now, after seven years of indefinite detention by the U.S. military, these men will be returned to their wives and children," said attorney Stephen Oleskey, who helped represent the men. "They have long insisted that their detention was a grave error that implicated the highest levels of the Bush administration, and we couldn't be more pleased to have this corrected and see these men return home."
Judge Richard Leon ruled in November that five Guantanamo detainees should be released promptly, because the government had failed to show by a preponderance of evidence that any of them had planned to travel to Afghanistan to take up arms against the United States and its allies, as the government claimed.
Two of the five detainees remain at Guantanamo.
The ruling by Leon, a Bush administration-appointed judge, represented a key legal setback for the government on detainee policy.
In June, the Supreme Court court ruled that all detainees at Guantanamo are entitled to challenge their continued detention.
Leon said the government's evidence that sought to link the men to al Qaeda was hardly reliable, credible or corroborated, being that it came from an unidentified single source.
He ruled, however, that the government had provided ample evidence against a sixth man represented in the case to prove he was "an al Qaeda facilitator."
All six men were living in Bosnia when they were arrested in 2002 by local police. Initially, U.S. and Bosnian officials claimed they were suspects in a plot to blow up the U.S. Embassy in Sarajevo.
They were promptly flown to Guantanamo Bay, Cuba, but after five years the U.S. government dropped the embassy bombing allegations. However, U.S. officials said the men had been planning to go to Afghanistan to fight against the United States and coalition troops there.
The judge said last month he understood his ruling was unique. In the wake of the Supreme Court ruling, he said, he had to construct his own definition of what constitutes an "enemy combatant." Leon said only one of the detainees clearly met his criteria.
Leon -- whom President Bush nominated to the federal bench a day before the September 11, 2001, terrorist attacks -- said he recognized the government could appeal, but issued a highly unusual caution.
"I, too, have a right to appeal: to the Justice Department, the FBI, the CIA and the Department of Defense," Leon said. "My appeal to you is to strongly urge that you take a hard look at the evidence, both presented and lacking, as to these five detainees" before pursuing an appeal, he said.
"We are of course disappointed by, and disagree with the court's decision that we did not carry our burden of proof with respect to the other detainees," Justice Department chief spokesman Peter Carr said at the time.
As many as 200 other Guantanamo detainees are challenging their detentions in cases still pending in federal courts.
About 250 detainees remain at Guantanamo, down from a peak of roughly 750 men from 40 countries.
The U.S. government has determined that approximately 60 of the detainees remaining at Guantanamo are eligible for transfer or release. The departure of these detainees, according to a statement from the Defense Department "is subject to ongoing discussions between the United States and other nations."
E-mail to a friend

CNN's Kelli Arena and Terry Frieden contributed to this report.
All About Guantanamo Bay • George W. Bush